When Seiko presented the Prospex LX Line at Baselworld 2019, there were long and vehement discussions on the pertinence of such a collection, and how the brand was way out of line for trying to compete with the sacred cows of Swiss watchmaking (understand here Rolex and Omega) in their own arena: sport watches with a price between EUR 5,000-8,000, depending on the model – and not even members of the Grand Seiko family. This was just the beginning…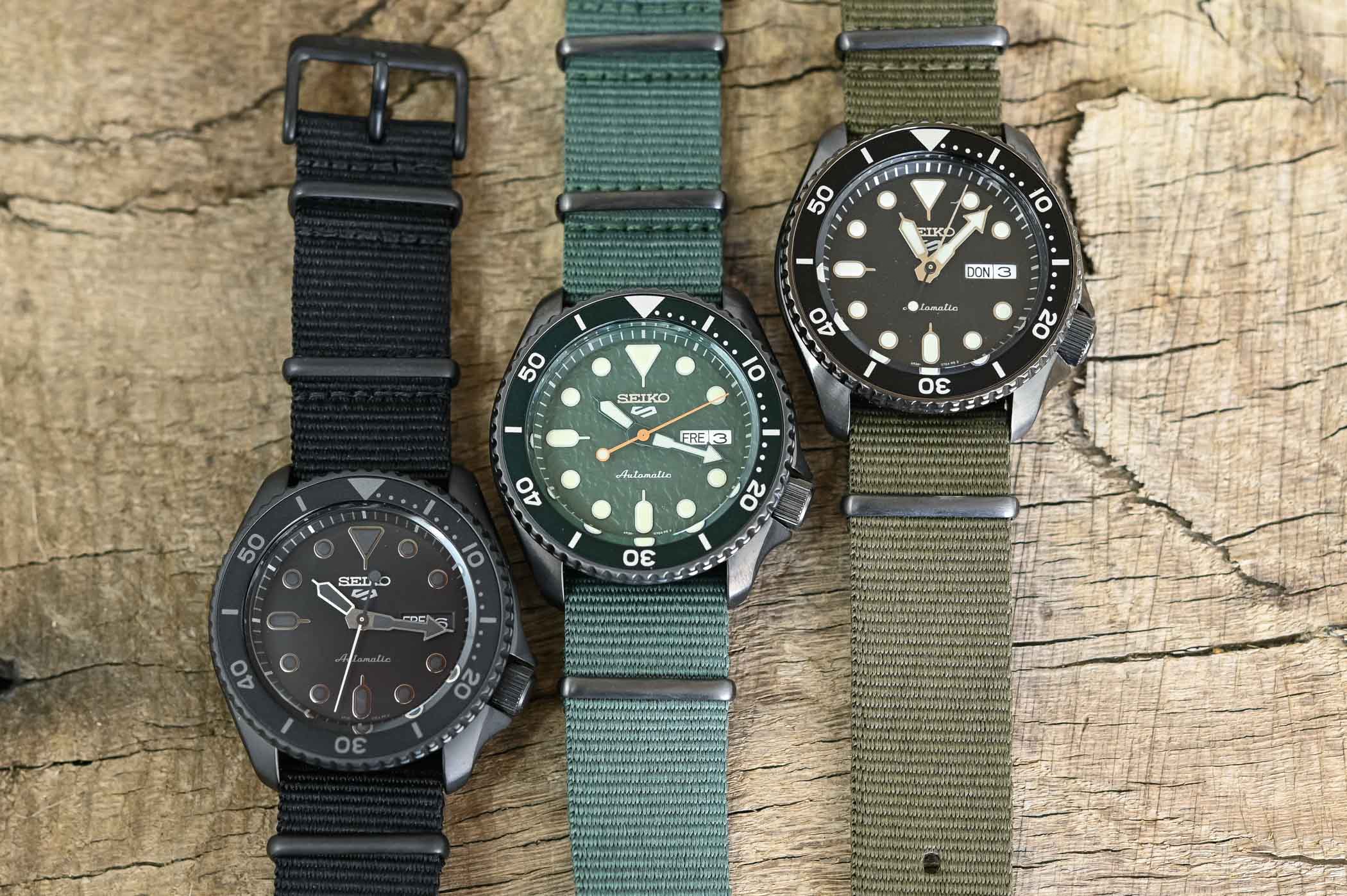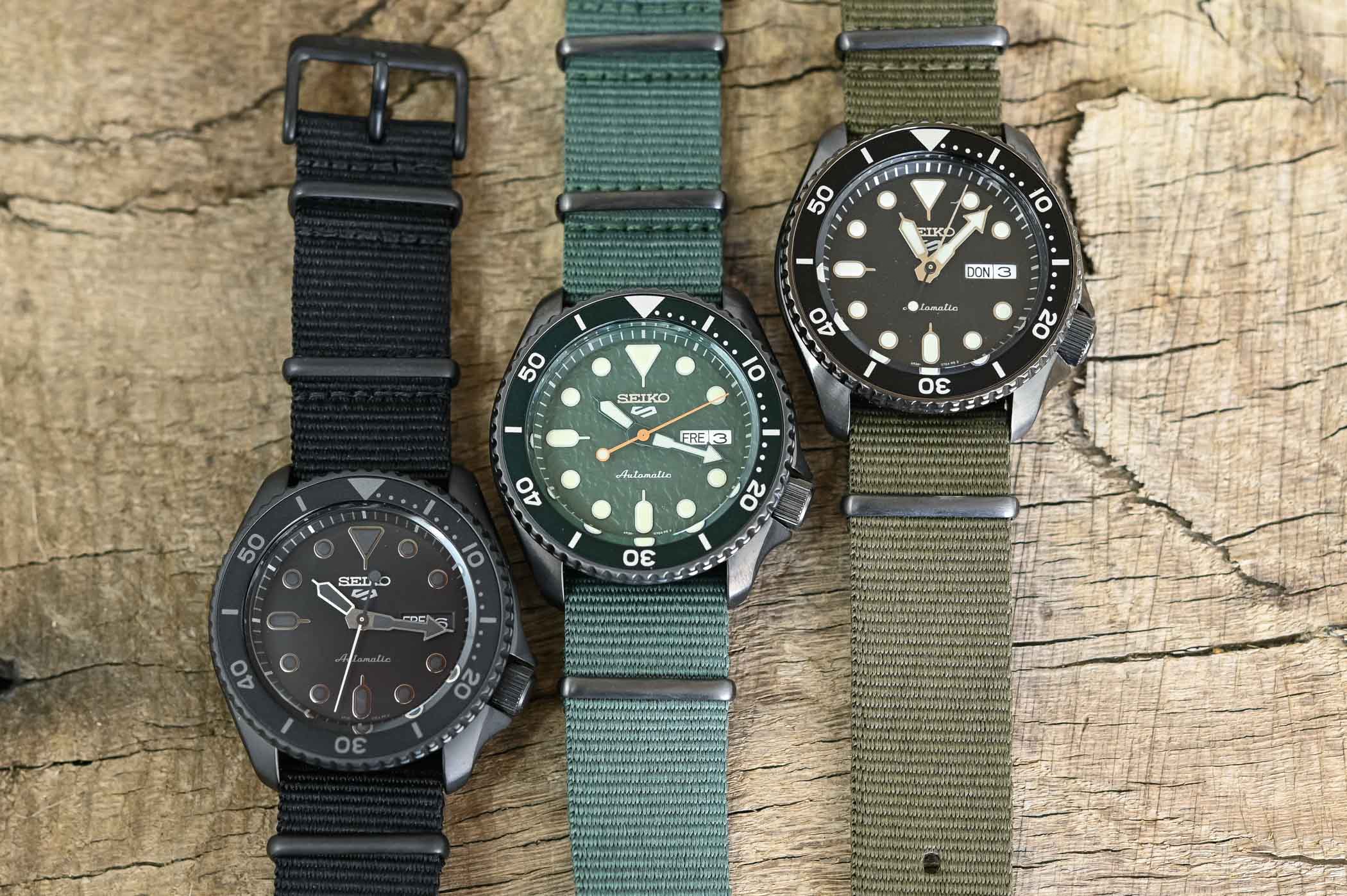 However, that was nothing compared to what happened a few months after Baselworld when Seiko unveiled the new Seiko 5 Sports collection: reactions hit stratospheric levels. But not because of what was arriving per se, but because of what was departing. Let's take a look at what generated this hot topic of debate, the relaunched Seiko 5 Sports Watches 2019 Collection.
THE SKX007 AND THE SEIKO 5 SPORTS
In case you need background on the SKX007, you can read this reference in-depth article here (a must-read for all watch enthusiasts).
The Seiko SKX007 is simply beloved by the horological community. And rightfully so! It is a great, inexpensive daily beater that can withstand just about everything, including depths of 200 metres, for which it is certified. It keeps very good time (if you are lucky like I was, chronometer-like accuracy), it looks good no matter what and it is probably the only iconic watch that most mere mortals can actually afford. Not only that: thanks to the lousy commercial strategy of Seiko in the past, the grey market was (and still is but to a much smaller extension) flooded with SKX007s, its Pepsi twin, the 009 and even its smaller sibling, the 013. A watch that had an official retail price of EUR 380 could be found for even less than EUR 100. Sheer bliss.
But everything comes to an end, and Seiko stopped the production of the SKX007 last July. What the people from Seiko told me back at Baselworld 2019 is that they wanted to stop producing the 7S calibres. According to brand, it doesn't make sense to keep them circulating since Seiko now produces the 4R series, which includes manual-winding and hacking seconds.
Not only that, Seiko now has all its affordable, certified divers under the Prospex umbrella (which are at least EUR 200 more expensive), so the 007 was an oddity in its portfolio. Even in the midst of renewed interest for the old hero, an integral member of Seiko's history, the brand decided it was high time for it to be discontinued. Or was it?
A WELL-KNOWN FIGURE
Never before has such an inexpensive watch caused such heated debate. Proof positive of how important Seiko has become for watch aficionados.
It was also time to give the Seiko 5 collection a more focused strategy. Up until now, Seiko 5 was a just a well-made, affordable watch with hundreds of different models. Not much else to say about it, although its origins were interesting. In 1963, Seiko launched the Sportimatic 5 to give customers the possibility of owning a watch with the best technology at an affordable price. That "5" in the name came from the 5 specs all watches should have: an automatic movement; a day-date complication in a single window, a significant water-resistance (started at 30 metres and now at 100m in the 42mm models); a receded crown at 4 o'clock (now only in the 38mm models); and a robust steel case and bracelet (or strap). In 1968, the Seiko 5 Sports were born, inheriting all these advantages.
It was a big thing, but in the era of internet sales, the concept was slightly lost. Now Seiko wants to target the watches to a younger audience, people who don't have the means to buy more expensive watches and, most importantly, to sell the watches only through boutiques and official dealers. What Seiko has done is to take the case, bezel and dial of the 007 and played with these three elements to present a collection of 27 watches in five families.
All of them have a diver's aesthetic that young people (and not so young) appreciate. All of the watches have the same size: 42.5mm diameter case and 13.4mm in height. They are made of stainless steel, but there are versions with hardened steel (with dark grey coating) and one with pink gold PVD coating.
The 2019 Seiko 5 Sports Watches are all water-resistant to 100 metres. Since it is has inherited the case of the 007, the crown is well-protected, but isn't screwed down. It's not easy to pull out though, so getting in the water with the watch is not as risky as it was with the previous Seiko 5s. It has a unidirectional bezel and Hardlex glass, which is far harder than Hesalite (but isn't sapphire either). It is flat, which helps legibility, and lays lower than the bezel so it's fairly protected.
Hands and raised indexes are filled with LumiBrite, which can be either green or blue depending on the models, and that shines well through the night. There are also different types of bracelets and straps: a traditional oyster steel bracelet; a mesh steel bracelet that appears only in the Suits Style family; a mixture of leather and rubber (in the Specialist Style); a plaited rubber one (in the Suits Style); and a black, green or brown NATO strap. The jubilee bracelet departed along with its master watch, the 007.
All the watches share the same calibre 4R36, an automatic, in-house movement that has long proved its reliability and sturdiness. It ticks at 3 Hertz and has a 41-hour power reserve. As always with the Seiko 5, the calibre can be seen through a transparent caseback. Its magnetic resistance is a class 2, which means it can withstand magnetic fields created by everyday gadgets and home appliances within a proximity of 5 centimetres.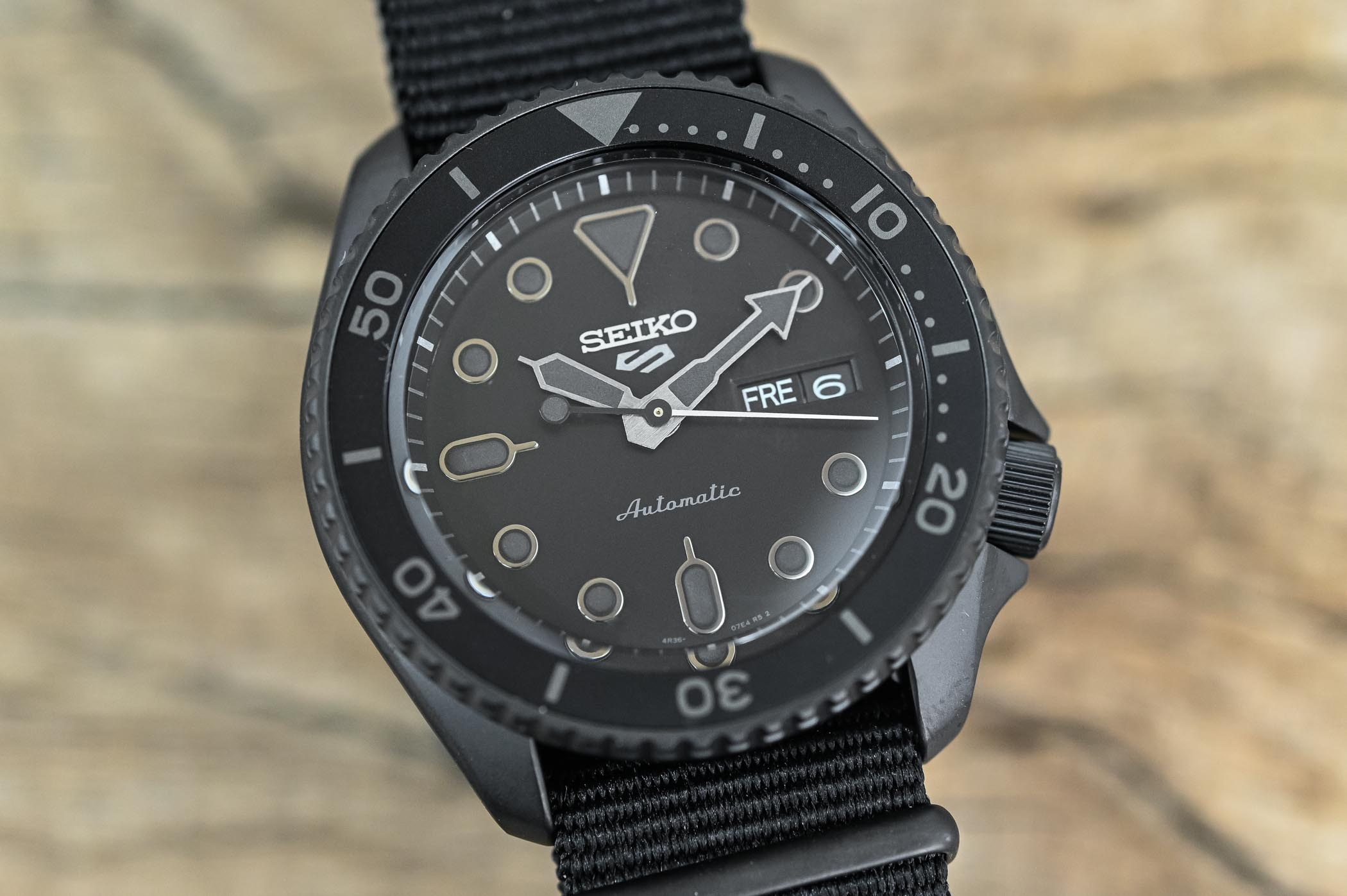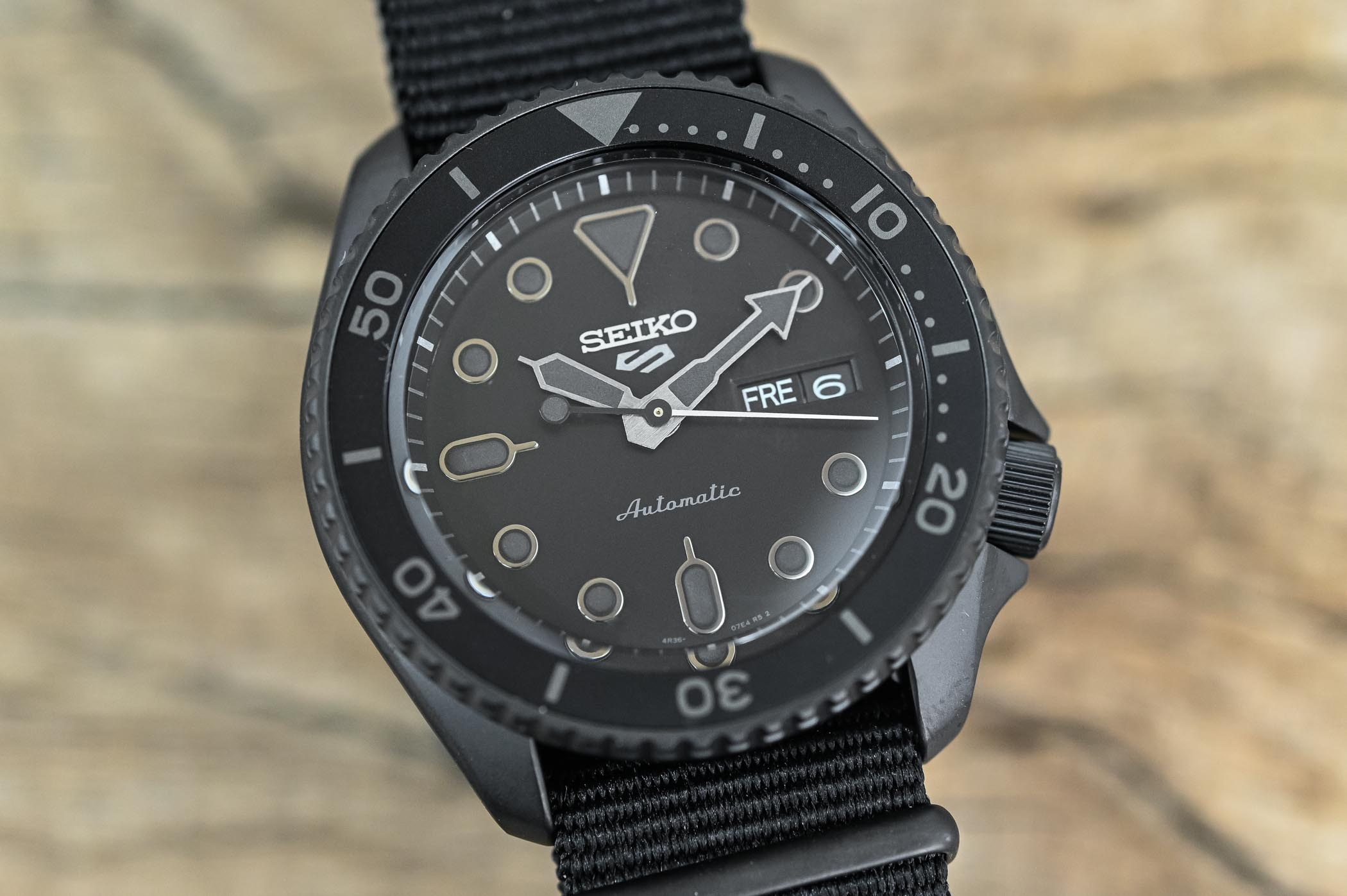 The new 2019 Seiko 5 Sports collection is composed of 27 watches, however, to bring more clarity, these are organised in 5 sub-collections.
Seiko 5 SPORTS "Sport STYLE"
It is the basic line and therefore the biggest, with 11 different models. All the dials, inner flanges and bezels are monochrome (except for the indexes and numerals, of course). The prices range from EUR 269 for the NATO and oyster steel bracelet to the EUR 329 for the full metal, hardened steel model.
Seiko 5 Sports "STREET STYLE"
No doubt these watches are intended for more urban, active people. The cases are hardened, they are attached to the wrist with a black strap, and the dial is black with black or fluorescent red or blue hands and indexes. The price of this collection is EUR 299.
Seiko 5 Sports "SPECIALIST Style"
Three models with the three case options (steel, hardened steel and rose gold PVD coating) each. All of them come with the leather-rubber strap. The price for the golden version is EUR 340.
Seiko 5 Sports "SUITS STYLE"
This is Seiko's bet for a dressy diver-style watch. They are either available with mesh bracelets or plaited rubber straps, and dials can be monochrome or bicolour. I own the red dial model and I can say that the mesh bracelet is very comfortable to wear. All models have the same price; EUR 329.
Seiko 5 SPORTS "SENSE STYLE"
We have here the last two models, which comes with textured dials in blue or green, with hardened steel cases in dark grey. Seiko loves to add patterns on its watches, and if these have nothing to do with a Grand Seiko Snowflake, the result is still pretty cool. Price is EUR 299.
The 2019 Seiko 5 Sports ON THE WRIST
If you own a Seiko SKX007, you know how comfortable it wears. It does not feel like 42mm at all, and the crown at 4 o'clock is a blessing. Even if the watch is pressed hard against the wrist, it never bothers you at all.
These Sports 5, therefore, feel the same on the wrist. The different dials and bracelets, the movement, and the affordable price, make getting one of these – at least – a no brainer. The arguments for and against this watch compared to the 007 might be an ongoing topic inside the watch world, but of zero consequence in the real world. Those who are going to buy the watch will do so because of what it has to offer, and don't care about any of the skeletons in the closet.
Overall, considering the price of these watches, mostly under EUR 300, the new Seiko 5 Sports Watches Collection is simply impressive. The overall quality is great, the collection is large enough for everyone to find the desired model, the design is cool (SKX007 DNA obliges). So all in all, you're in front of a true Seiko 5; meaning a no-brainer, inexpensive daily-beater with the right dosage of cool.
More information at Seiko5sports.com.
This post first appeared on Monochrome Watches - An online magazine dedicated to fine watches.