"Accessible" and "High-End" are not words usually that go well together… Quality comes at a price. A case made a master watchmaker, a guilloché dial and a hand-decorated movement are often signs of a 5-digit price tag. Enjoying the taste of independent watchmaking, exclusivity and craftsmanship require deep pockets. A sad reality. But not for Ophion, a young brand created in 2015 and that, from the very beginning, caught our attention. In 2018, they did it again, with their second watch. And this year, Ophion introduced a watch that pushed the concept of "accessible high-end" much further. This is the Ophion OPH 786 Velos and today we take a closer look at it, in the metal.
Before we start with the review of this watch, let's play a little game… What if tell you to put a price on a watch done in small series, with a case made by none other than Voutilainen, with independently welded teardrop lugs, featuring a guilloché dial, applied (and on some version thermally blued) Breguet markers, 3-dimensional dial layout with several layers and a movement hand-finished with a hammered surface. I can't precisely figure out the number that will be in your mind, but I'm easily guessing you won't picture an affordable watch. Well, today, we're going to demonstrate that these features don't necessarily require more than a mainstream, industrially-produced watch.
Background
Ophion was born in a country that is more known for its beautiful landscapes and its caliente way of life; Spain. Certainly, the watches aren't produced there (parts are done in Switzerland and Germany) but this where the founder, Miguel Morales Ribas, comes from. Driven by his passion for watchmaking, he decided to create his own brand with affordability and a quality/price ratio in mind, but also by implementing some features of traditional high-end watchmaking in the equation… which could have driven the price high, but it didn't.
The first version of the OPH 786 (not "Velos" back then), launched in 2018.
Passionated by watchmakers such as Journe, Ferrier or Voutilainen, the idea was to find ways to have the spirit, not the price. This meant finding solutions to cut prices, without neglecting the overall feeling of exclusivity. The two first chapters in the Ophion story, the OPH 960 and the OPH 786, were already convincing, but the newest model, the Velos, pushes the concept in a new (and impressive) direction. Because this time, not only will take inspiration from these master watchmakers, he even managed to involved one of them in his latest project.
The Ophion OPH 786 Velos
This new model is an evolution of the 2018, not "Velos" back then, watch produced by Ophion. Most of the features are shared but the new Velos is fine-tuning every single aspect of the watch to bring even more horological pleasure. Redesigned case, evolution of the dial and its layout, new handset and markers, refined patterns and execution, even more attention to the decoration of the movement… and a slight but justified price adjustment.
A handsome, greatly executed case
Starting with the case, you'll probably see a certain resemblance with watches made by Kari Voutilainen (or Urban Jurgensen). The round profile of the central container, the convex bezel and mostly the teardrop lugs are familiar elements that are not just a tribute to Kari's work… It is his own work. For this new model, Ophion is indeed partnering with Voutilainen & Cattin SA, a company partially owned by Kari and specialized in case-making, which produces and finishes cases for multiple watch brands, including now Ophion.
Typical to Kari's design language, the case of the Ophion OPH 786 Velos relies on a central container that is pebble-shaped, with no sharp angles and entirely polished surfaces. This smooth shape is also echoed in the crown, which has a flat onion profile and is finely notched. The case measures a reasonable 39mm diameter, nice proportions for a modern dress watch, which will fit most wrists. The overall execution of the case is, as you would expect from Voutilainen & Cattin, very neat and precise, with a beautiful polishing.
The main attraction on this case are the lugs, those teardrop lugs that will immediately talk to high-end watchmaking enthusiasts. Again, these are typical to Kari's work – and also Urban Jurgensen, since Voutilainen used to work for this brand, and later did prototyping and unique pieces for them. Executed in polished steel like the rest of the case, the lugs are independent modules, forged and welded to the case by hand. No doubt about the beauty of the execution, neither the visual beauty of these teardrop lugs, which give the Ophion OPH 786 Velos far more charm than the previous models that used more standard cases. The perceived quality makes a huge jump, which propels this watch in a different category… and visually, it simply is a feast for the eyes.
The rest of the case is neatly executed and well proportioned. The watch sits nicely on the wrist, as the lugs are sloped and the strap sits low on the case. About this, Ophion made a rather conservative choice here, with alligator straps (cowhide leather with pattern as standard or genuine alligator in option). If the quality of the strap isn't to be debated, I would personally choose for something a bit more casual, less strict and without pattern. A simple, well-executed matte and flat calf leather would be more appropriate in my opinion. But that's a highly subjective remark.
Textured dials, full of details
Just like the previous model, this new Ophion OPH 786 Velos has a lot going its dial, with layers, applied tracks and markers, patterns, multiple finishings… The dial itself and all its elements are clearly far beyond what you'd expect to see in a sub-3k watch. Also, like its predecessor, two different dial patterns are available. Not photographed here but presented in our introducing article is a brushed galvanic dial, with a circular pattern. For this review, we've decided to focus on the guilloché dial, available in three colours; silver, blue or salmon, with thermally blued or rhodium-plated applied elements.
Guilloché is a traditional technique that is, in high-end watchmaking, executed by a man-controlled machine name an engine-turning lathe. The process, which starts with a gold or silver dial plate, creates repetitive motifs by chiselling the metal. A complex, time-consuming process that requires highly skilled craftsmen but that results in superb dials with the unique charm of a hand-made object. This is the technique used by Breguet or Kari Voutilainen (him again), in his dial-making company Comblemine. In order to cut costs, most mainstream companies use a different, much cheaper technique to obtain such patterns; by stamping the dials in an industrial way. The result is far less precise and detailed, without the sharp chiselling effect of hand-guillochage.
What Ophion is doing is an intermadiate solution that allows having this deep, sharp texture without the costs of a hand-executed engine-turning process. The dials of the OPH 786 Velos are obtained by using a CNC machine. This way, the dial still is properly engraved (machine-chiselled), meaning that material is removed, creating deep incisions and the brightness and reflections resulting from these patterns, without the need to use a costly technique. For its watch, Ophion chose for a cross weave (also named panier pattern), a traditional motif which is finely executed here.
And this is just the beginning. On top of this patterned dial plate are multiple applied elements. New to this model are the "Breguet" numerals, with a deep profile and precise execution – from the words of Miguel, the watches you see here are still prototypes and the final products will have even more detailed numerals. These are available either in silver colour (rhodium-plated, on the blue model) or thermally-blued (on the silver and salmon dials). They are colour-matched with the hands, which not only are very precisely executed but also feature a new design – the new hour hand gives its name to the watch, Vélos, which comes from the classical Greek meaning 'arrow'.
In addition to that, Ophion relies on its usual 3D dials, with multiple elements applied, such as the raised tracks – one for the minutes, on the periphery, and one to mark the centre of the dial, which combines a diamond-polished bevel and a circular brushed top surface, and that features a cartouche with the name of the brand.
Three colours are available with this patterned dial, all obtained by galvanic treatment, resulting in metallic colours and reflections. Each version has its own personality, with a personal preference for the salmon model… Yes, the classic steel/salmon/blue indexes combination is always a winner. Altogether, the level of details on this dial is simply stunning, in this price range at least. Certainly, you'll find more refinement at Breguet, more hand-made parts at UJ… but in the 2K-4K Euros range, there are not many watches that can compete with this OPH 786 Velos. Period!
Movement
Now that we have covered the habillage parts, you might think that, in order to control the costs, this watch is equipped with a standard automatic Sellita or ETA movement. Once again, you'd be wrong. Yes, for obvious reasons, the movements are outsourced, yes, the movements start their lives as industrially-produced ébauches and yes, the architecture is used by others. But many parts are exclusive to the brand and the finishing is not your classic machine-made Geneva stripe.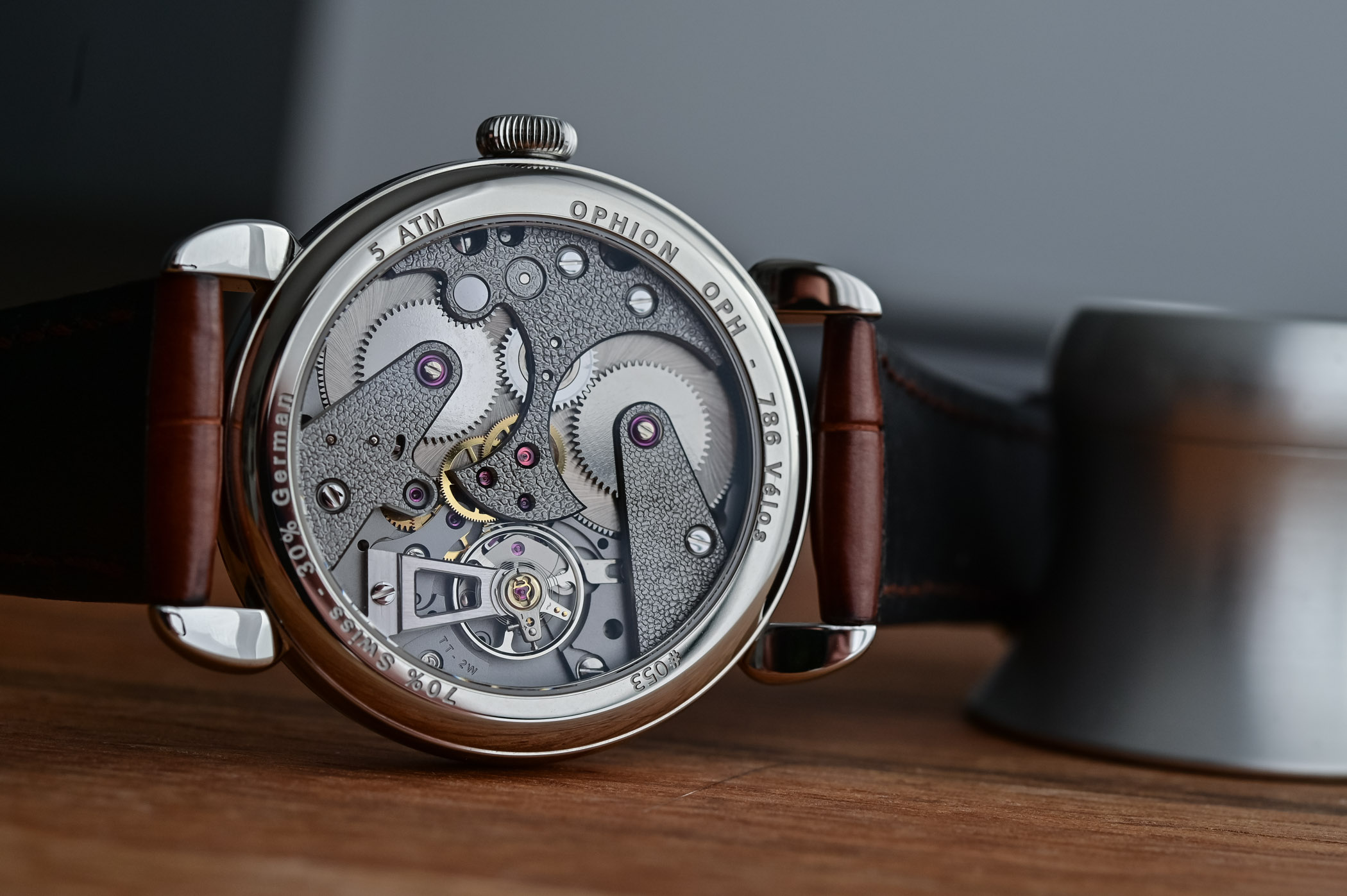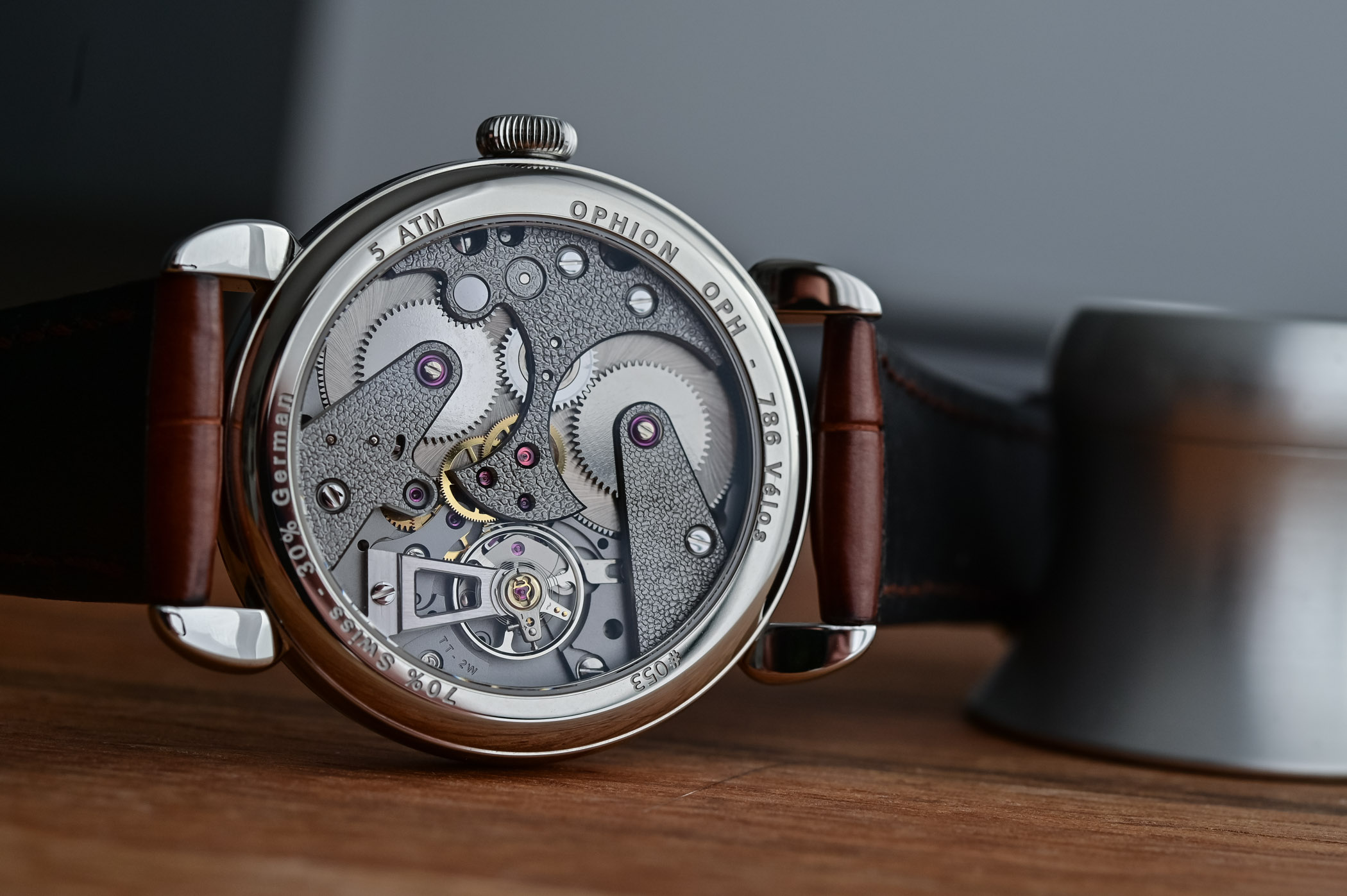 The base movement used by Ophion OPH 786 Velos is the same as the two previous watches of the brand, a hand-wound, 4Hz frequency and 5-day power reserve engine (twin-barrel) once produced by Technotime, now manufactured by Soprod. There's already quite a lot to love here, with this long autonomy manually-wound movement, with a large diameter that nicely fits the case. However, the interest is not only here.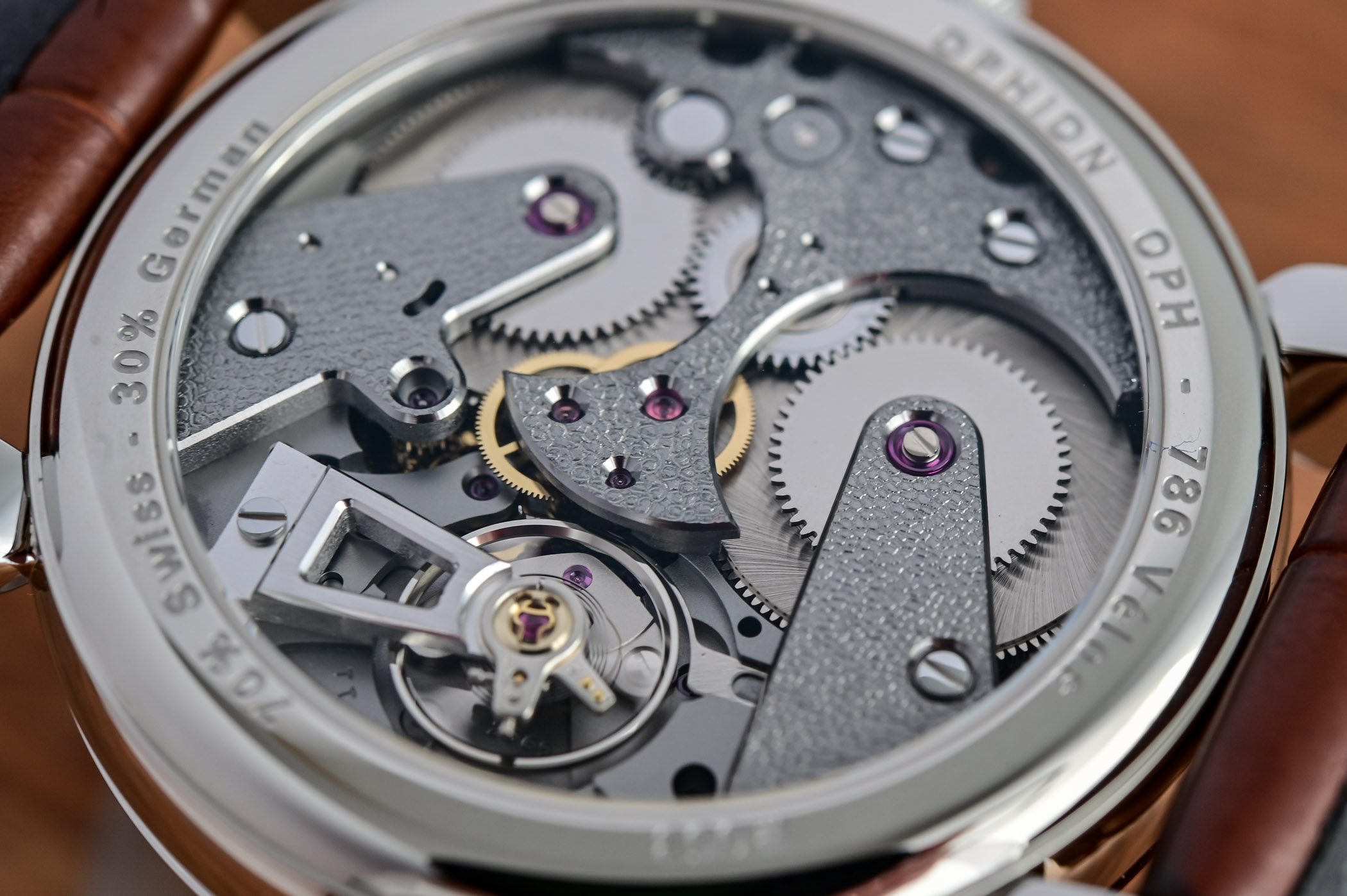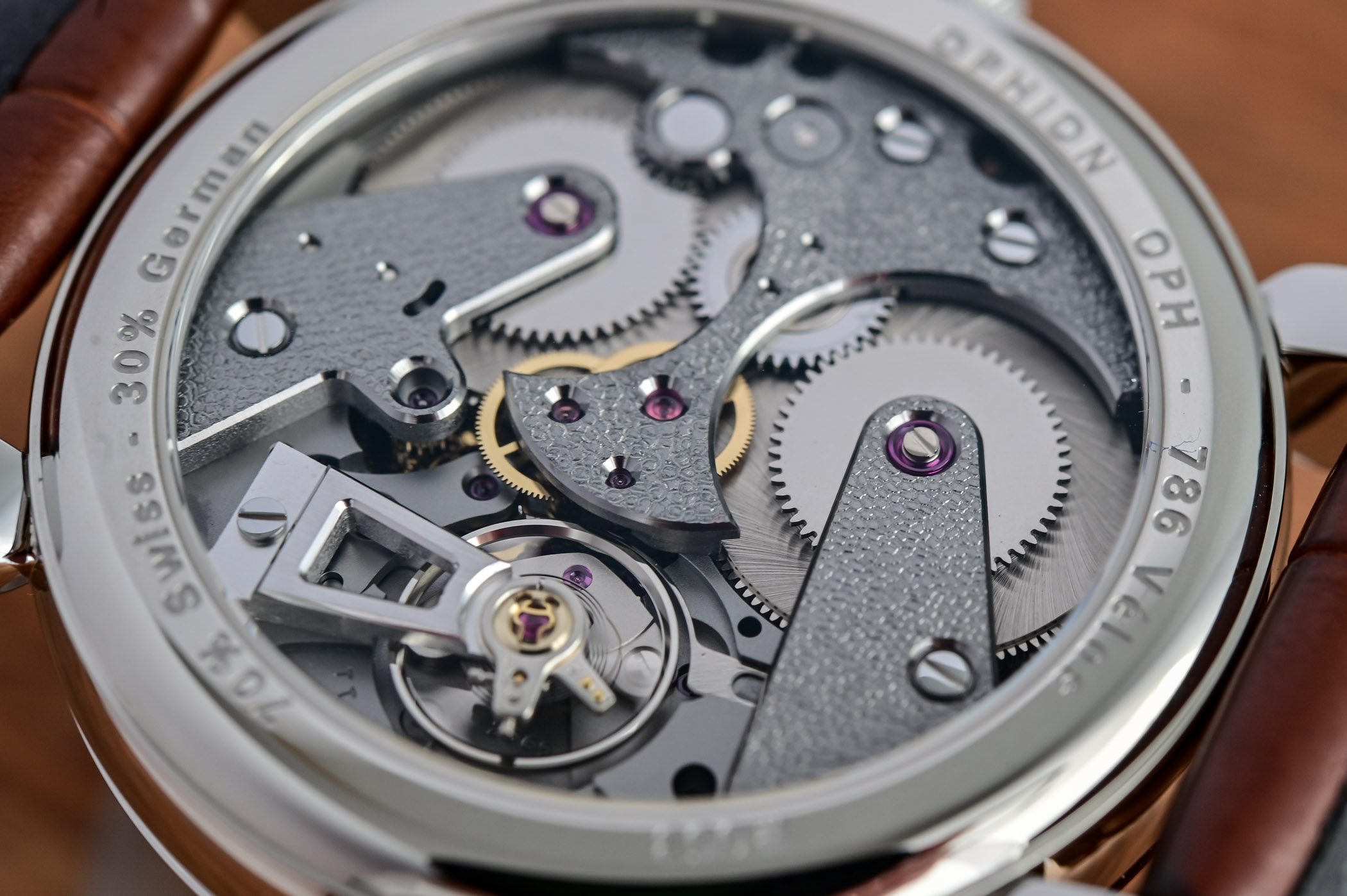 What's special in this movement is what other brands don't use; proprietary, internally-designed bridges with a symmetrical layout and a finger-style display. This layout is reminiscent of antique pocket watches of the English school of watchmaking or some Breguet models (mostly the souscription watches). In the same vein, the cock (the bridge that secures the balance wheel) has this typical British-inspired design, with an opened centre area and a stepped architecture.
When it comes to the decoration, Ophion went for bold and refined techniques. The 3 main bridges feature a unique pattern that resembles the antique hammered technique – of course, executed here in a more modern way. The edges and the screw slots are bevelled and polished, nicely contrasting with the matte upper surfaces. The flanks of the bridges have a straight graining too. Finally, the cock combines polished bevels, straight-brushed top surface and grained flanks, with an oversized polished screw.
Once again, this movement is another part that really amazes for a watch in this price range. Large, coherent with the style of the watch, beautifully finished and exclusive, it will please those who look for more than just a standard automatic ETA base.
Thoughts
You've probably understood it… We've been properly impressed by Ophion's latest offering. Whatever you look at, there's an incredible attention to details, which is rarely seen in watches in the 2k-4k Euros category. What's even more impressive is that this watch is fully produced in Europe – as proudly engraved on the caseback; 70% Swiss – 30% German.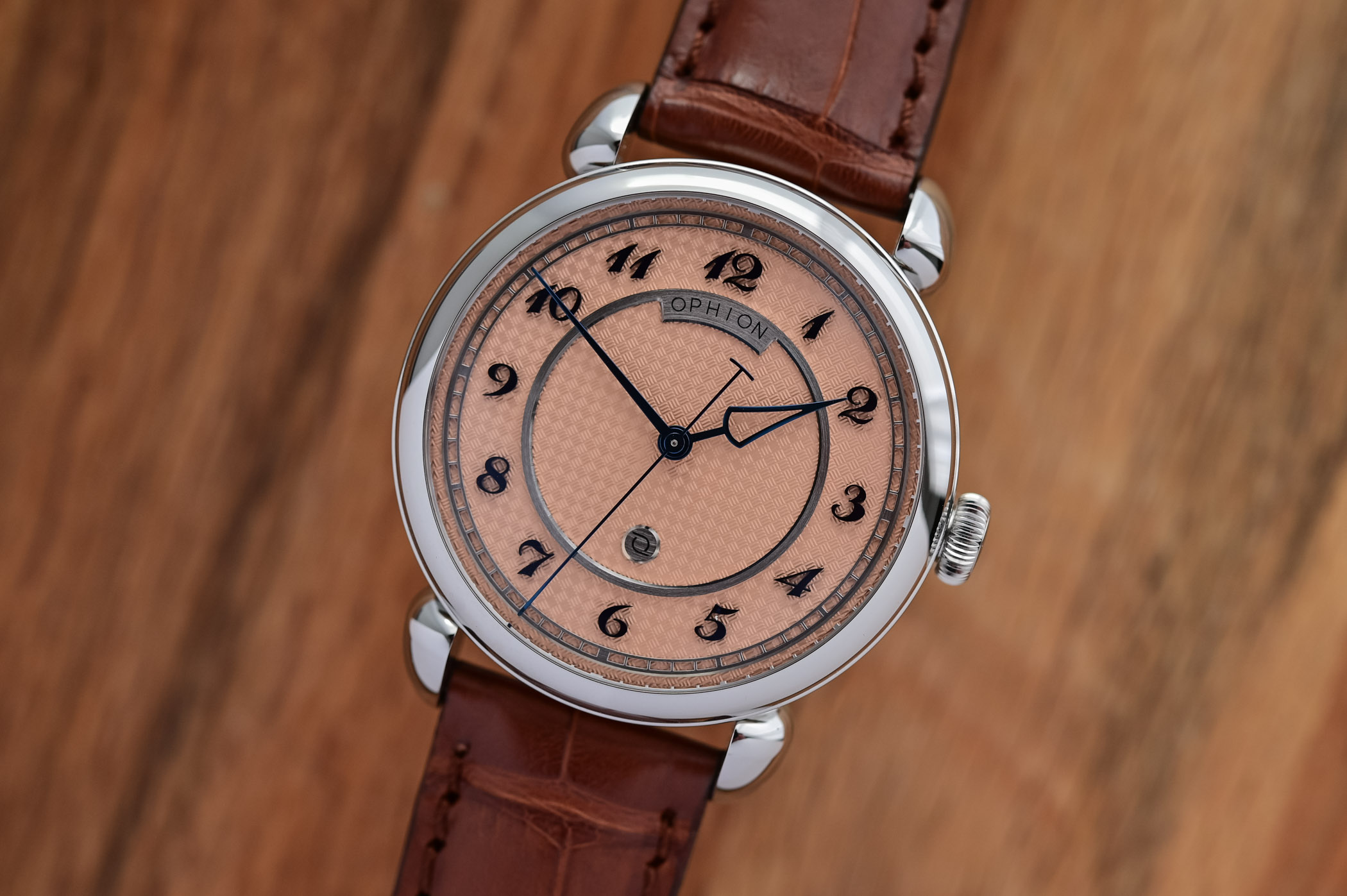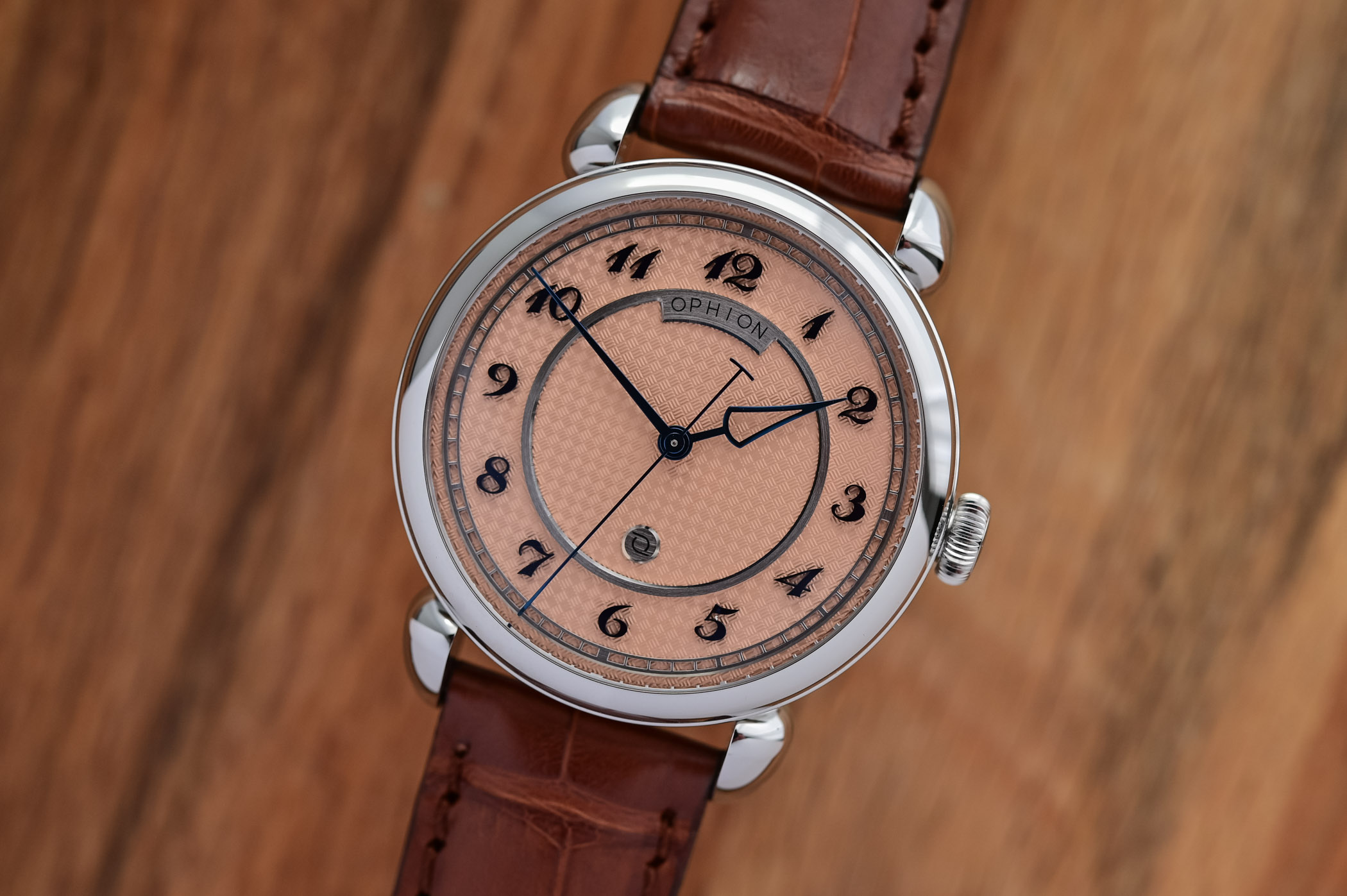 Quality apart, the Ophion OPH 786 Velos marks a great evolution in terms of design, with more coherence between the dial, the (superb) case by Voutilainen, the numerals and hands, and finally the movement. This watch is well-proportioned, full of charm and references to high-end watchmaking, elegant yet with a twist and, good point, its own personality.
Is it perfect? Almost, as I'd personally changed the strap for something less conservative and would like the anti-reflective coating on the sapphire crystal to be a bit more efficient – especially visible on the blue model… But honestly, these are minor flaws that won't change my very positive opinion about this watch, which cost about the same as an industrial "luxury" watch from a mainstream brand. High-end watchmaking made accessible.
Price and availability
The Ophion OPH 786 Velos can be ordered from the brand's website here. It is priced at EUR 2,580 (excl. taxes) for the radial dials and EUR 2,870 (excl. taxes) for the guilloché dials.
More details at www.ophion-watches.com.
This post first appeared on Monochrome Watches - An online magazine dedicated to fine watches.