Being known as a brand far from conventions, Graham has specialized itself in creating aviation-inspired pieces, with quite a bold design. One can't denied that these watches are "special", yet not void of a clear coolness. As already having in the collection some vintage- and military-inspired pieces – see here – Graham has decided to add something that is part of fighting aircrafts' history to the Chronofighter: "Nose Art". Pinups on the wrist, with the new Graham Chronofighter Vintage Nose Art Ltd… And once again, it's audacious.
What is "Nose Art"?
The concept of "Nose Art" can already be found on 18th century vessels. However, the common representation we have of Nose Art is mainly linked to WWII aircrafts and pinups that ground crews were painting on the nose of military planes. Yet, nothing glamorous in these decoration. Nose Art started as embellished squadron insignia, created in order to identify friendly units from enemies. The practice evolved to express the individuality often constrained by the uniformity of the military, to evoke memories of home and peacetime life, and this is why during WWII, many of these "Nose Arts" were young and glamorous ladies, a.k.a. pinups. And surprisingly, what started as a security necessity quickly became a folk art. Today, with the Chronofighter Vintage Nose Art Ltd., Graham catches that stylish and offset military spirit and implement it on the dial of its vintage / military pilot watches.
The Graham Chronofighter Vintage Nose Art Ltd.
With this inspiration and mind and knowing what the brand already has in the collection, the link was actually rather easy to make between the Chronofighter and Nose Art. The collection consists into 4 watches – dubbed Sally, Anna, Lilly and Nina, in reference of the girls painted on the dials. For the rest, we found back this bold and large chronograph, with inverted crown at 9 and the "trigger" device, a signature feature seen on all Graham watches. Quite a piece again, which has impressive presence on the wrist, and these decorations on the dial even reinforce the look – and add quite its dosage of coolness for those who will dare to wear it.
The dials
Here comes the first and main part of the Graham Chronofighter Vintage Nose Art Ltd. watches, their dials. Basically, their are based on the Chronofighter Vintage collection and share the same style and layout. Inspiration from 1940s pilot watches, large 12 numeral, long and luminous baton markers, a imposing 30-minute counter at 6, and because of the inverted movement, a day-and-date indication at 9 and a small second at 3. Time is indicated by antique-like hands, yet largely filled with luminova to bring a perfect night-time legibility.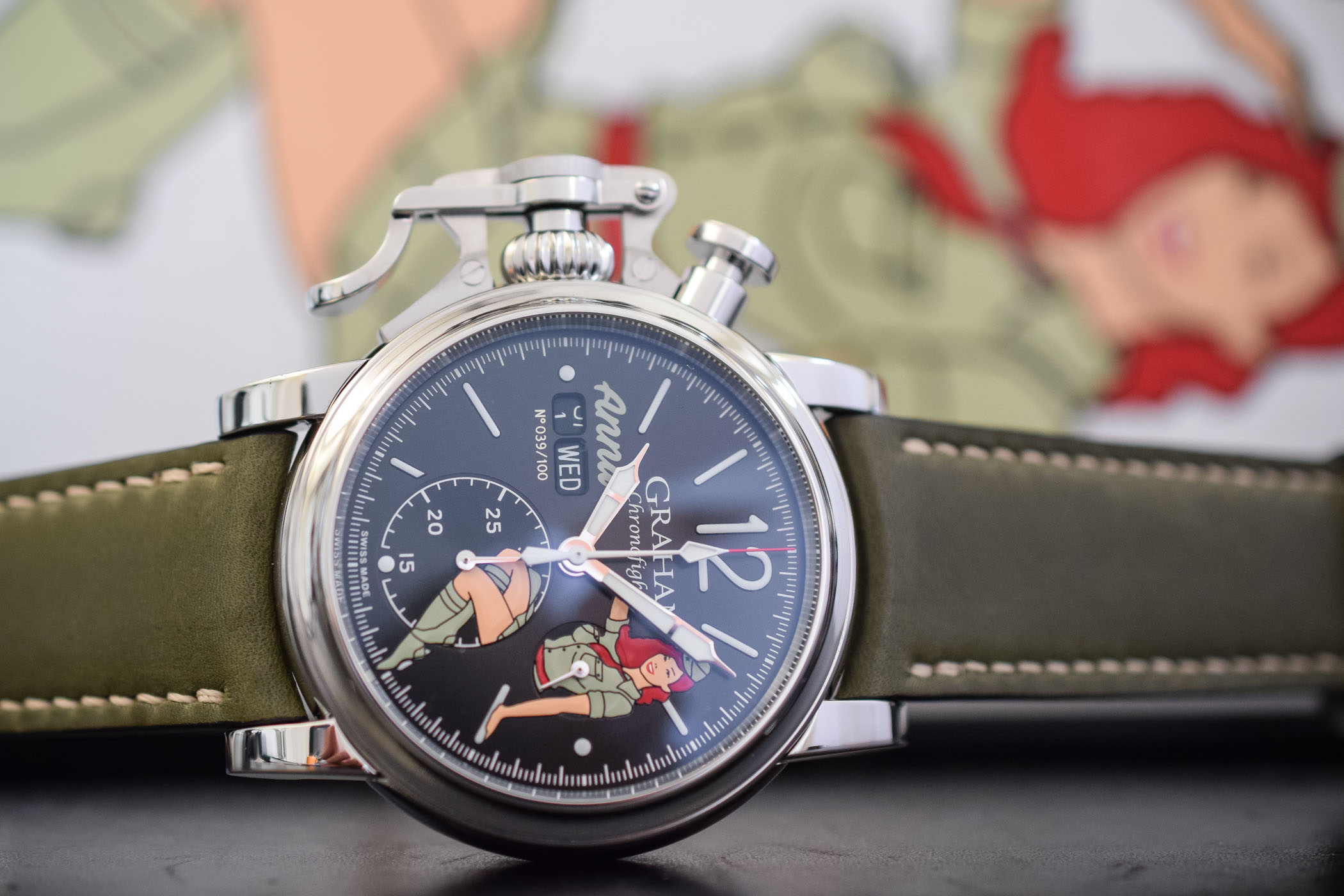 As said, 4 editions are available: 2 with black sunburst dial (Sally and Anna), 2 with blue sunburst dial (Lilly and Nina). The main difference compared to the other watches of the collection is that these Graham Chronofighter Vintage Nose Art Ltd. have a cartoon-like pinup painted on the right side of their dials. For 3 of them, their body is integrated in the small second counter while their legs appear in the 30-minute counter (without disturbing too much legibility though). the "Lilly" edition is slight different as the body is entirely visible on the dial.
The addition of these "nose art" representations on the dial of the Graham Chronofighter Vintage brings humor and glamour, yet feels completely consistent with the original DNA of the watch. Of course, it won't be to everyone's taste and these watches will need 2 things: a certain passion of the collector for this era, for military pieces and for "nose art" in general, and, most importantly, some audaciousness to feel confident in having such a piece on the wrist. Once this point integrated, the Graham Chronofighter Vintage Nose Art Ltd. are very pleasant pieces, with a real uniqueness and coolness.
The case / strap
The Graham Chronofighter Vintage Nose Art Ltd., as well as all Chronofighter watches, have a clear presence on the wrist. Not only the dials are bold in these, as the case also brings it own signature style to the watch. These Nose Art editions are here presented in the 44mm case, crafted in polished stainless steel. Attached to it is the "trigger" device that circles the crown at 9, a signature feature of all Graham watches since 1995. With such a description, you might imagine to have a beast on the wrist, however, without saying that we're facing small dress timepieces, these Chronofighter watches are perfectly wearable.
First of all, the long horns are curved and hug the wrist, which means that the watch is balanced and well positioned on the wrist. Then, the large trigger device is positioned at 9 and does make sense when the watch is worn normally on the left wrist – for once, we don't encourage you to wear it as a "destro" watch, as this trigger could be uncomfortable. Finally, there's this user-friendly trigger, which operates the chronograph function. Because we talk inverted watch, the position of the pushers is also reversed. Thus, the lower push piece of the trigger is used to start the chronograph and to pause it – in a very easy way, using your thumb. The chronograph is reseted by pressing the mushroom-like pusher at 10. Few inverted watches offer such easy-of-use and the trigger device makes a lot of sense here.
The Graham Chronofighter Vintage Nose Art Ltd. is secured to the wrist by hand-sewn leather straps – in black on "Sally", in military green on "Anna" and in blue on "Nina" and "Lilly". A choice of pin-buckle or folding clasp is available.
The movement
Behind the sapphire caseback is a perfectly known movement. This automatic chronograph, named here calibre G1747, is based on the Valjoux 7750 – meaning 48h power reserve, 4Hz frequency and 25 jewels. This movement is a workhorse that will bring precision and reliability over the years. To be integrated into the case of the Graham Chronofighter Vintage Nose Art Ltd. it has been slightly modified – mainly because being inverted and to integrate the "trigger" device.
Availability and Price
The Graham Chronofighter Vintage Nose Art Ltd. are limited to 100 pieces for each dial and are now available at retailers. The price is CHF 5,450 / £3,840. More details on graham1695.com.
---
Technical Specifications – Graham Chronofighter Vintage Nose Art Ltd.
Case: 44mm diameter – stainless steel, polished – fast-action start / stop trigger and reset pusher – sapphire crystal on both sides – 100m water resistant
Movement: calibre G1747 (Valjoux 7750 base) – automatic – Swiss Made – 4Hz frequency – 48h power reserve – time, day-and-date, chronograph
Strap: hand-sewn leather strap in black, green or blue (depending on the edition), steel pin-buckle or folding clasp on request
Reference: 2CVAS.B21A (Black Dial, Sally) – 2CVAS.B22A (Black Dial, Anna) – 2CVAS.U05A (Blue Dial, Lilly) – 2CVAS.U04A (Blue Dial, Nina)
Limited edition of 4 times 100 pieces
Price: CHF 5,540 / £3,840
This post first appeared on Monochrome Watches - An online magazine dedicated to fine watches.