Three years ago, two men decided to launch a book focussed an iconic watch, with an unprecedented level of information. Their name: Grégoire Rossier and Anthony Marquié. The watch in question: The Omega Speedmaster "Moonwatch". The book: Moonwatch Only. This sort of encyclopedia quickly became the ultimate reference guide for Speedmaster lovers. All models explored, all components dissected, multiple historical references… A true bible of the Moonwatch. Today, the Speedmaster Guide comes back in an electronic version named E-Moonwatch Only (available on iBooks), and with a new tool that will make collectors' life easier.
While the Moonwatch Only book is a heavy and thick 566-page reference guide, divided in several sections (with exhaustive background and history), the mobile / electronic version, E-Moonwatch Only, is meant to be lighter and more practical – and don't be sad, as it comes for a more friendly price than the book (EUR 29,99 / US$ 32,99 when the book is EUR 250,00). This doesn't mean that this iBooks version of Moonwatch Only is poor. Far from that! However, its vocation is slightly different, as it might be seen as a traveler's guide – and because it's on iBooks, it can be read on both iPhones, iPads and Mac.
E-Moonwatch Only does not contain all the details or historical information gathered into the original book. Its specific focus is towards model identification, which is a key factor when searching for a Speedmaster. It includes all references, models and key components of the Speedmaster, as well as an identification tool. Why that? Imagine you are enjoying holidays on the Amalfitan Coast. You pass in front of a vintage watch dealer and in the display window, a superb looking Speedmaster CK2998… How to be sure in less than 5 minutes that this model is legit?… E-Moonwatch Only can help you. But first, what's inside?
Components
Just like the print version, E-Moonwatch Only includes an in-depth look at all key components of the Speedmaster Moonwatch. Are included in the electronic version: Calibre, Caseband, Dial, Bezel, Hands, Caseback, Crown, Pushers, Glass and Bracelet. For each component, you can find all the different versions that have been produced by Omega, from 1957 to the current line-up of watches, including the recent Speedmaster 60th Anniversary. Of course, as an electronic version of the book, E-Moonwatch Only is slightly less talkative and mainly focusses on key details and high-res images.
As you can see here, each component has its own dedicated page, with reference numbers or detailed information. Click on the component itself and you'll access to HD images (of course exclusive to the book). The goal here is clearly to educate, compare, understand – and mainly, to verify authenticity of every single part that composes an Omega Speedmaster Moonwatch.
Models
As with the components, every single model of the Speedmaster collection, from 1957 to 2017, whether from the standard production or limited editions, are explored and dissected. For instance, click on any of the models and you'll have the reference of course, but also the approximative range of serial numbers (useful to see if the case and movements are matching with the model in question), and finally, the reference of all components that should be in the selected model. Finally, if the Speedmaster you're exploring is a limited edition or one with low production numbers, you'll even know how many of them have been produced.
Finally, as with components, if you click on the watch itself, you'll access superb and extremely detailed HD images of the watches. Now, you have the tools to become an expert… And if you feel that this was not enough, Grégoire Rossier and Anthony Marquié even thought about one clever tool for you, to quickly identify a Speedmaster Moonwatch.
The identification tool
Because E-Moonwatch Only is meant to be a mobile guide to be read mainly on iPhones and iPads (even if it is also available on Mac – all the screenshots here are from a 27″ iMac – and as usual, the larger the screen the more comfortable the reading experience will be), Grégoire Rossier and Anthony Marquié thought that it would clever to include a traveler's tool to help identify Speedmasters in less than 5 minutes – and on that we have to agree, it is properly clever. The goal is to quickly define if a watch is legit, or if it is one of these doctored / Franken watches we see way too often.
How does it work? Simple. Take the watch in question with you, check it throughly and start the identification program. First step, select the type of dial logo (applied or printed), then the type of lugs or the type of indexes (tritium or luminova), then the type dial or caseback and so on, to finally discover the exact reference you have in front of you. Of course, this program is evolutive and differs depending on your answers. It might ask for the type of indexes, the type of bezel, the type of graduation on the bezel, the type of hands… However, if at a certain point you can't find the choices offered by E-Moonwatch Only on the watch you have in front of you… You might want to step out of the shop!
Here's an example of an identification process, step by step (of course, this process will be different depending on your answers and can include much more steps)
This tool is extremely simple and useful for all Speedmaster collectors. It will never prevent you from being extremely careful when buying a vintage piece but it has to be said, it is a real prevention tool. No excuses anymore in case you bought a doctored Speedy!
Tables
The last tool included in E-Moonwatch Only is for the hardcore collectors. All references and models are organized into several tables, with production dates, serial numbers, references numbers, movements and inscriptions on the caseback. You said geeky? We say die-hard aficionados… But this is also why Moonwatch Only, and its electronic version E-Moonwatch Only, are so fascinating.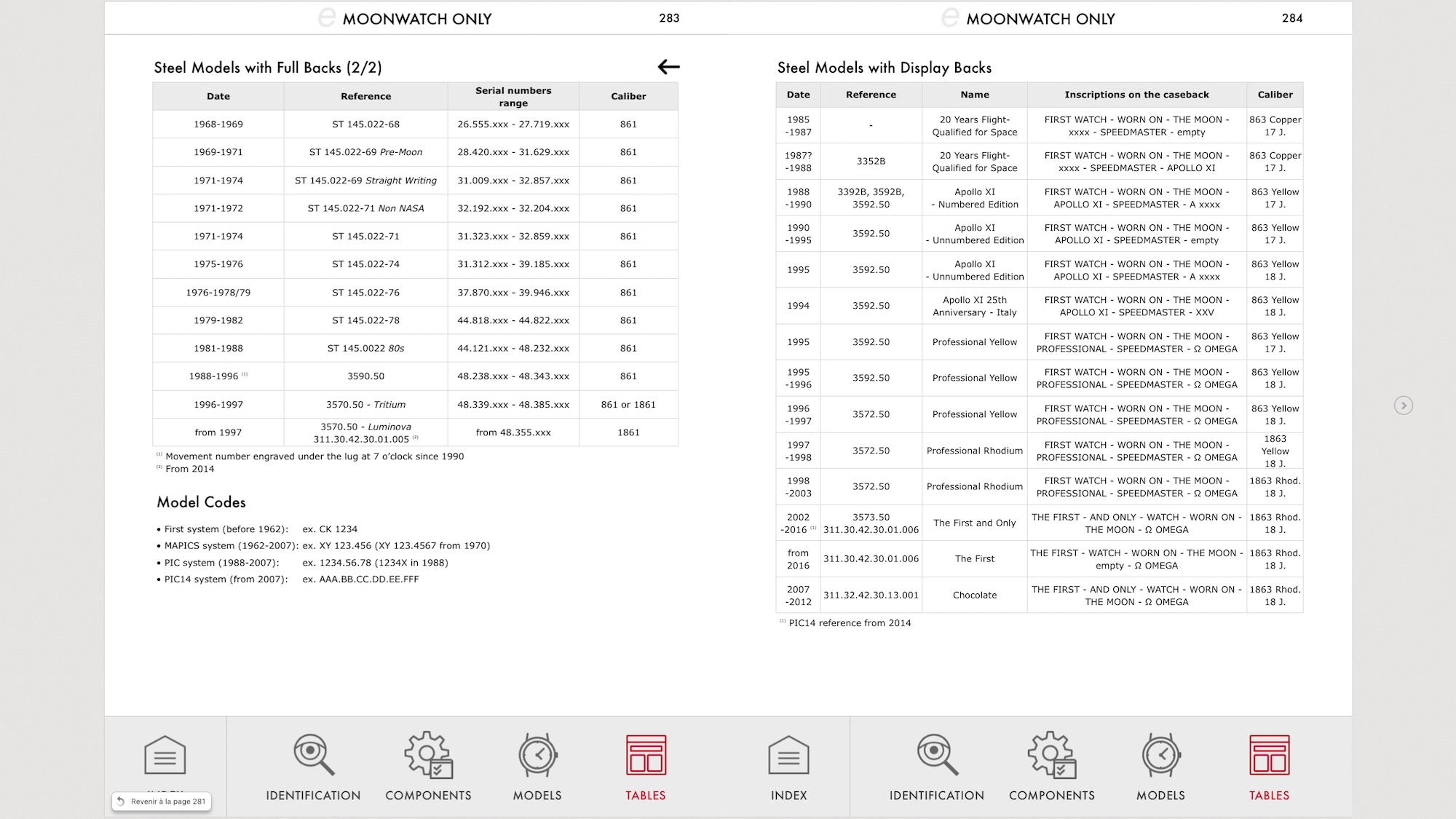 Availability of E-Moonwatch Only
E-Moonwatch Only has been designed like an app, even if it is available as an electronic book (on Apple devices only for the moment). You can download it here, on iBooks. It is available on all Apple devices, including iPhone, iPad and Mac, for EUR 29,99 or US$ 32,99. Considering the incredible amount of work that Anthony and Grégoire have done to achieve this Speedmaster guide, it remains a very friendly price. The print version of Moonwatch Only is still available, and has been recently updated, with a 60th Anniversary Edition – available for orders here. More details on the book, the E-Moonwatch Only electronic guide and the authors on www.moonwatchonly.com.
This post first appeared on Monochrome Watches - An online magazine dedicated to fine watches.