Since its release in 1999, the Twenty-4 has been Patek Philippe's entry-level watch (all genders) and certainly its female's best-selling collection. Shaped like a bracelet, with a rectangular case seamlessly integrated into a metallic bracelet, it was unfortunately powered by a quartz movement (an in-house quartz movement for sure, but still battery-powered). So-to-say, a watch that never really made it as a true Patek in our books. Yet, there's a new version of the Patek Philippe Twenty-4. It is round, it is more casual and sportier and it is powered by an automatic movement.
The Patek Philippe Twenty-4 as we knew it until today – rectangular, small, bracelet-like and battery-powered. Here is the steel version, ref. 4910-10A, the entry-level model at EUR 11,000 (also the most affordable Patek)
There is no doubt that the Patek Philippe Twenty-4 Steel/Quartz has been a commercial success for the Geneva-based brand. It certainly is the Maison's most successful ladies collection. However, is it really because of its intrinsic qualities or simply because it is the most accessible watch the brand offers? Remember that it allows wearing a Patek for just over 10k… Not that we want to deny the qualities of this watch but the "aggressive" price certainly played a lot in its sales. The fact that it is a shaped watch and, mainly, that it is powered by the Calibre E15 (an in-house quartz movement) made it absent of MONOCHROME… Sadly! The Twenty-4 is about to change, as there's a new version coming, now with arguments for modern ladies.
The new Patek Philippe Twenty-4 Automatic is, as clearly indicated by its name, powered by a "real movement" – something that, indeed, you would expect from a watch with Patek Philippe written on the dial. However, this isn't the only change. The brand has decided to drastically change the concept behind the Twenty-4, with the wish to make it more appealing, more modern, more casual – and we'll let our female readers judging if its a success or not.
A round yet complex case
First and foremost, the case moves to rectangular/bracelet-like to a more classical round option. Patek has here opted for a contemporary diameter of 36mm – again with the idea to target a younger clientele. However, this case is far more complex than just a round container. Changing the shape doesn't mean that it totally gets rid of the bracelet-like concept. Indeed, the bracelet is still seamlessly integrated into the case, with the steps of the links following the steps of the lugs. We're in fact more in front of a tonneau-shaped watch. Same goes for the inter-lug module that follows the shape of the central link.
The bezel is also far more complex than just two rows of diamonds surrounding the dial – again, the question of having only paved version remains debatable, as we know by experience that some younger ladies prefer full metallic watches. The bezel follows the curvature of the case and is raised at 12 and 6 o'clock to create continuity with the bracelet. Knowing that, it feels difficult to imagine this watch without a metallic bracelet.
The case is slightly thicker than we would have expected, at 10.05mm but remains comfortable and has a modern presence on the wrist. It is a casual-chic watch that can be worn on a daily basis – a sort of all-rounder. The bracelet has Patek's new fold-over clasp and a 30m water resistance. It is available in steel or 18k rose gold, all with 160 diamonds on the bezel – one additional version, the 7300-1201R-001, adds diamonds on the crown, the lugs and the bracelet.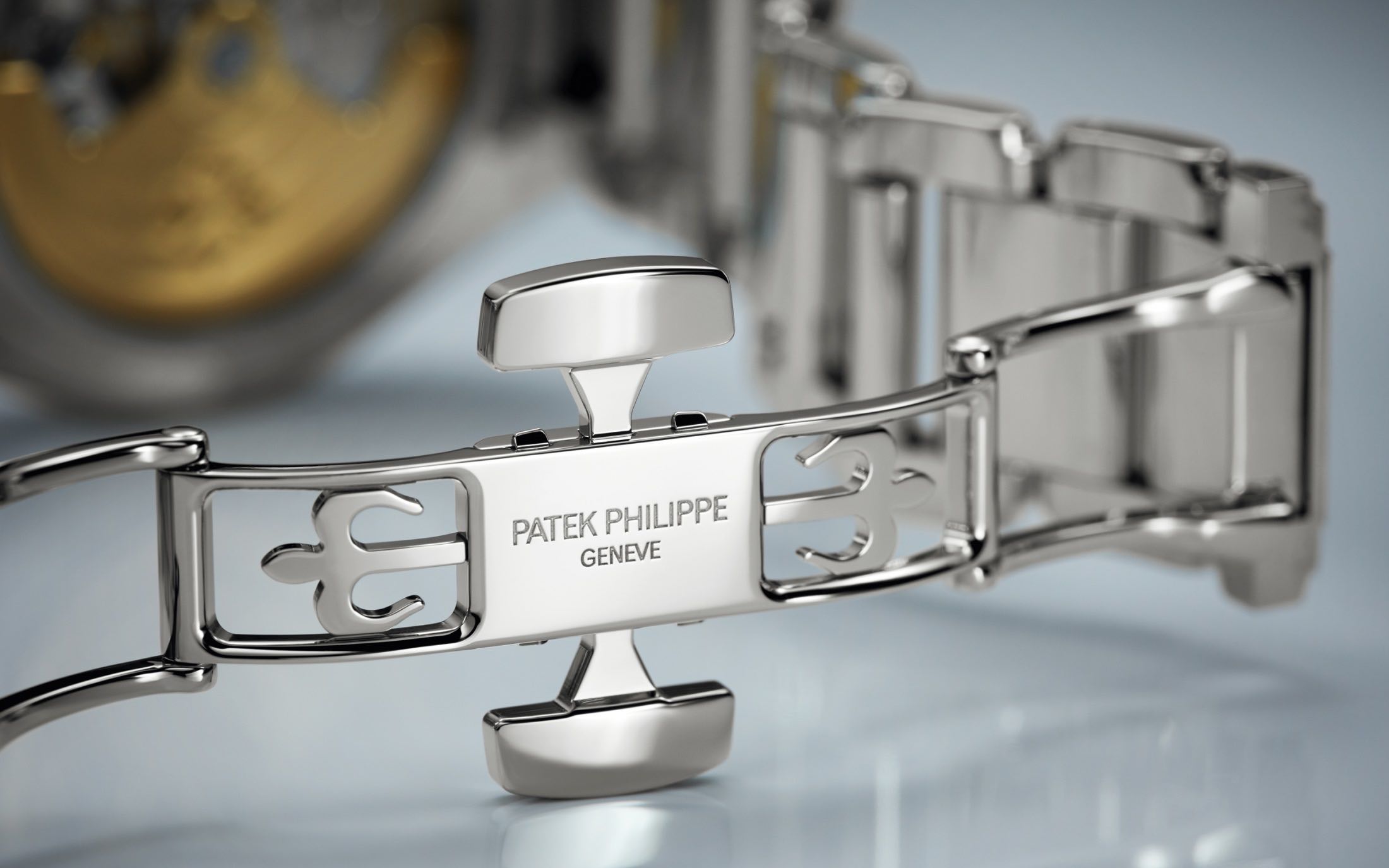 Gradient or textured dials
Depending on the version, the new Patek Philippe Twenty-4 Automatic features sunburst dials with the trendy gradient colour-scheme or a silvery-white dial decorated with a double vertical and horizontal satin finish, reminiscent of the texture of wild silk.
On all models, the Patek Philippe Twenty-4 Automatic features sporty, pilot-like applied numerals in gold with luminescent coating, echoing the Nautilus-like hands (rounded batons) again with luminescent coating. We see again here the casual-modern intentions behind this watch, even though the mix of pilot and Nautilus elements could have been weird. All models are classical time-and-date versions, with the date window positioned at 6 o'clock.
Depending on the model, the dial can be dark blue, grey, brown – all with sunburst pattern – or silvery-white with a criss-cross pattern. No version with diamonds on the dial has been released yet, even though we can easily imagine some to be launched later.
Finally an automatic movement
our main satisfaction with this new, round Patek Philippe Twenty-4 is to see the addition of a real movement and not another quartz-regulated calibre. Inside the case is Patek's emblematic, entry-level self-winding calibre, the 324 – a movement that is found in some Calatravas, in the Aquanaut 5167A or in the Nautilus 5711A. Thin, nicely decorated and equipped with multiple modern technologies (Giromax and Spiromax escapement parts), it is here visible through a sapphire caseback.
This movement is thin, at only 3.3mm, so we're still a bit surprised by the 10mm height of the case. What remains is a great movement, with a nice 21k gold central rotor, polished bevels and Geneva stripes. This Calibre 324 SC is certified by the Patek Philippe Seal, a guarantee of its excellent execution and of its precision.
Versions and prices
At the moment of the introduction of this Patek Philippe Twenty-4 Automatic, a total of 5 versions will be available:
7300-1200A-001 – steel with blue dial
7300-1200A-010 – steel with grey dial
7300-1200R-001 – 18k rose gold with brown dial
7300-1200R-010 – 18k rose gold with silver dial
7300-1201R-001 – 18k rose gold with silver dial and paved bracelet
The prices for this new Patek Philippe Twenty-4 Automatic range from EUR 23,660 for the two steel versions, to EUR 41,150 for the two 18k rose gold versions (no diamonds on the bracelet) and EUR 51,440 for the 18k rose gold with paved bracelet.
Availability is to be confirmed. More details on patek.com.
This post first appeared on Monochrome Watches - An online magazine dedicated to fine watches.