This isn't one of my usual articles in The Collector's Corner. For my first time talking with self-taught Czech watchmaking wizard Ondřej Berkus (@hodinkyberkus), I wanted a format more intimate than a Q&A (for a look at how well a Q&A can be done, check out Ondřej's interview with Watch Affinity here). I didn't want to write about how Ondřej got into watches or about his watchmaking philosophy – I wanted to get to know the man and what drives him. I hope I am able to convey some of the wonders I felt when I spoke with him, and I also hope you enjoy the ride!
Special thanks to @jirivratislav for supplying the photos for this article. 
Off to Czechia
I look at the windows of the train as we cross the Austrian border to Czechia. It's a dreary day – a thick and oppressive cloud cover hangs in the sky and sheets of rain pour down. It's a flat country out here, a welcome respite from the mountains further west in Austria that seem to glower at you and crowd you in as you drive by. It feels like a fantasy land in the mist, and somewhere in this fantasy land, there's a watchmaking wizard named Ondřej Berkus (@hodinkyberkus). 
How we got here
I had planned to drive out here not today but on October 8th, two days after Ondřej Berkus's return from the United States. Serial enabler and all-around good guy @aguy2watch knew of my plans to visit Ondřej and was adamant: "You need to go this week. It's a unique opportunity to see so many finished watches assembled in one place. If you go later, you can see the workshop, you can see the man, but you won't get a true taste of the watchmaking." He's good at that, @aguy2watch, infecting you with his passion. When he believes in a product, and the creators behind it, his eyes light up and he speaks about it with a nearly uncontainable enthusiasm. 
Three weeks ago, I met @aguy2watch and @watchcph over dinner and drinks (… and drinks and drinks!) – and both of them had spoken about Ondřej with a mixture of admiration and respect. Both are clients, and they recommended I reach out to Ondřej to ask about the possibility of an in-person meeting to understand his watchmaking philosophy better, and maybe even to explore some ideas for a future project. 
And so we started writing on Instagram, and I broached the topic of visiting him to see his workshop and meeting in person on October 8. And this is the thing about Ondřej: I was expecting an answer along the lines of "well… I'm very busy at the moment, but how about next year in Spring / Summer?". No, none of that. He is the most welcoming person ever – he told me to come over whenever it suits me, and enthusiastically told me that he'd cleared his whole day – he starts work at five in the morning, so he gets quite a lot done by midday. 
Cue September 26 and @aguy2watch's advice, and here I am asking Ondřej if I could actually come over the very next day. Same response: by all means.
First impressions
And so, here I am on the train, off to northeastern Czechia not far from the Polish border. I reach my destination and exit the station – I knew what Ondřej looks like from pictures so I was able to identify him. We climb into his Alfa Romeo – Ondřej turns out to be quite the petrolhead – and head off. The landscape is hilly here, and the bendy road makes for fun driving. "When I am stable financially, I'm going to treat myself to a Giulia Quadrifoglio." Not just any Giulia Quadrifoglio, mind you. Ondřej has a wonderful habit of getting his cars tuned to the point where "they actually try to get you killed and shouldn't be allowed". 
I come to understand that Ondřej celebrates life – whenever he's asked "why?" in the context of why he wants to do something, he replies, in his typical fashion "why the fuck not?" 
Ondřej has a passion for travelling, fast cars, and good food. But first and foremost, newlywed Ondřej carries a certain responsibility on his shoulders, not only for himself but also for his wife. He makes this clear while we're still driving to his home – he has a number of materialistic targets in mind (not in order of priority):
A large two-car garage (for the Giulia Quadrifoglio of course), with couches, a bar … "A mancave?" I interject. Ondřej grins. "Yes, a mancave."

 

A proper workshop

 

A stable for his horses with enough space to train them – Ondřej is very passionate about his horses and is considering entering them in reining competitions
Once he has achieved this foundation of materialistic needs, he tells me that it will be passion that dictates what projects he chooses – there will come a time when a simple time-only watch does not excite him, does not challenge him enough, and he will not be under any financial pressure to make it. I ask him about the waiting list, which stretches past the year 2035 if not 2040. 
"I'm at a comfortable point right now. I think close to half the people on the waiting list will drop off – either because "life" happens, or they get tired of waiting, or the hype dies out, or they get the chance to acquire something else. Even if that happens, I will still be comfortable. But my situation means that only a certain type of collector is drawn to me. I want clients who are patient and don't bother me daily asking for an update."
Freedom is important to Ondřej – the thought of a corporate mentality or of following rigid delivery timetables (aside from his financial goals) is suffocating to him.
Watchmaking magic
Inside the workshop, I am offered coffee straight from the get-go. This seems to be the wizard's elixir of choice.
@aguy2watch, who had also planned to stop by, finally makes his entrance. His enthusiasm is on full display as he tells me "come on, let's get them all out!" 
I look over to Ondřej, asking for permission, but he tells me I can do whatever I like (apart from dropping things!) as long as I remember to put everything back where I found it. I realize that nothing is off-limits. I can examine, photograph, and share everything in the workshop. There are no secrets here, no fog of ancient watchmaking in transparency.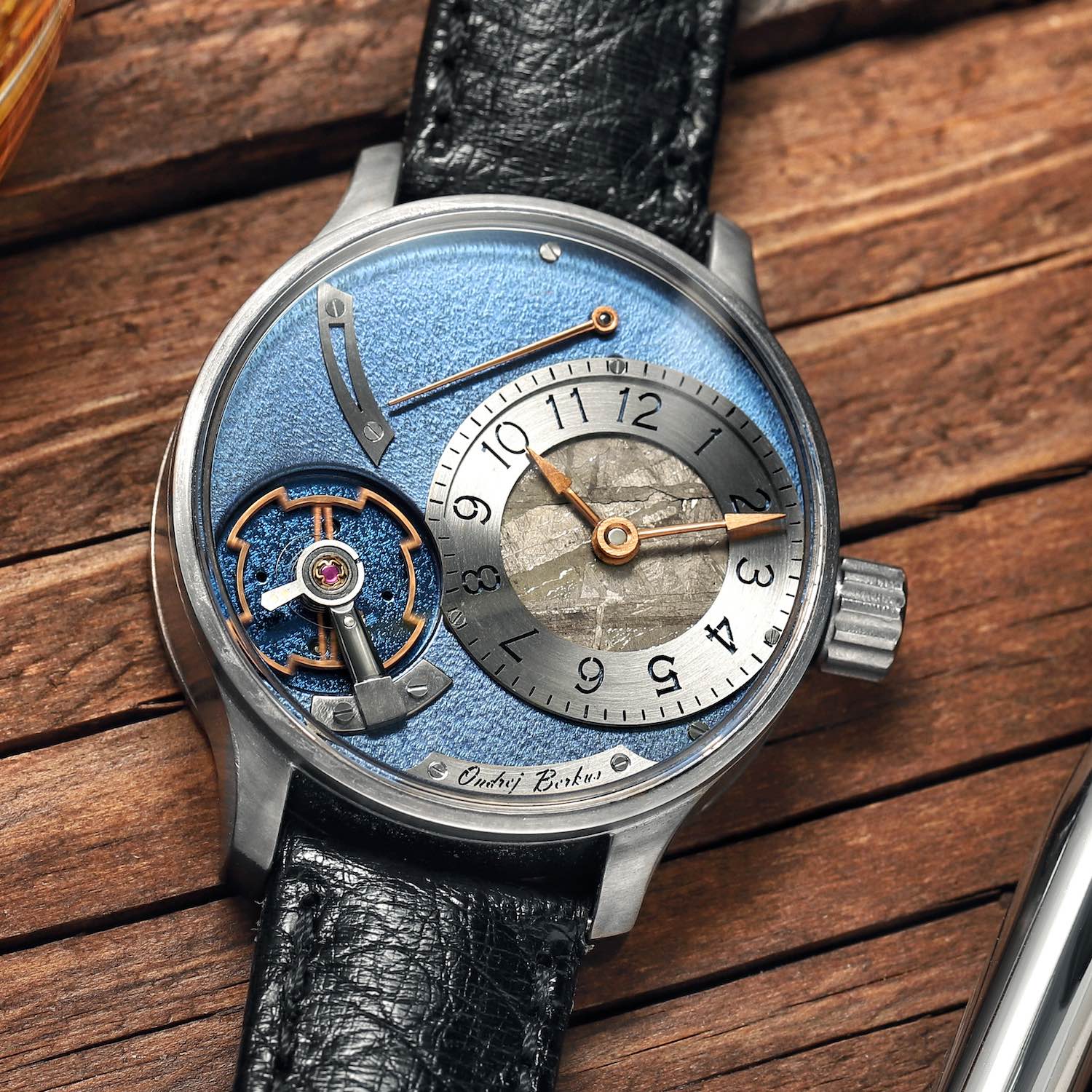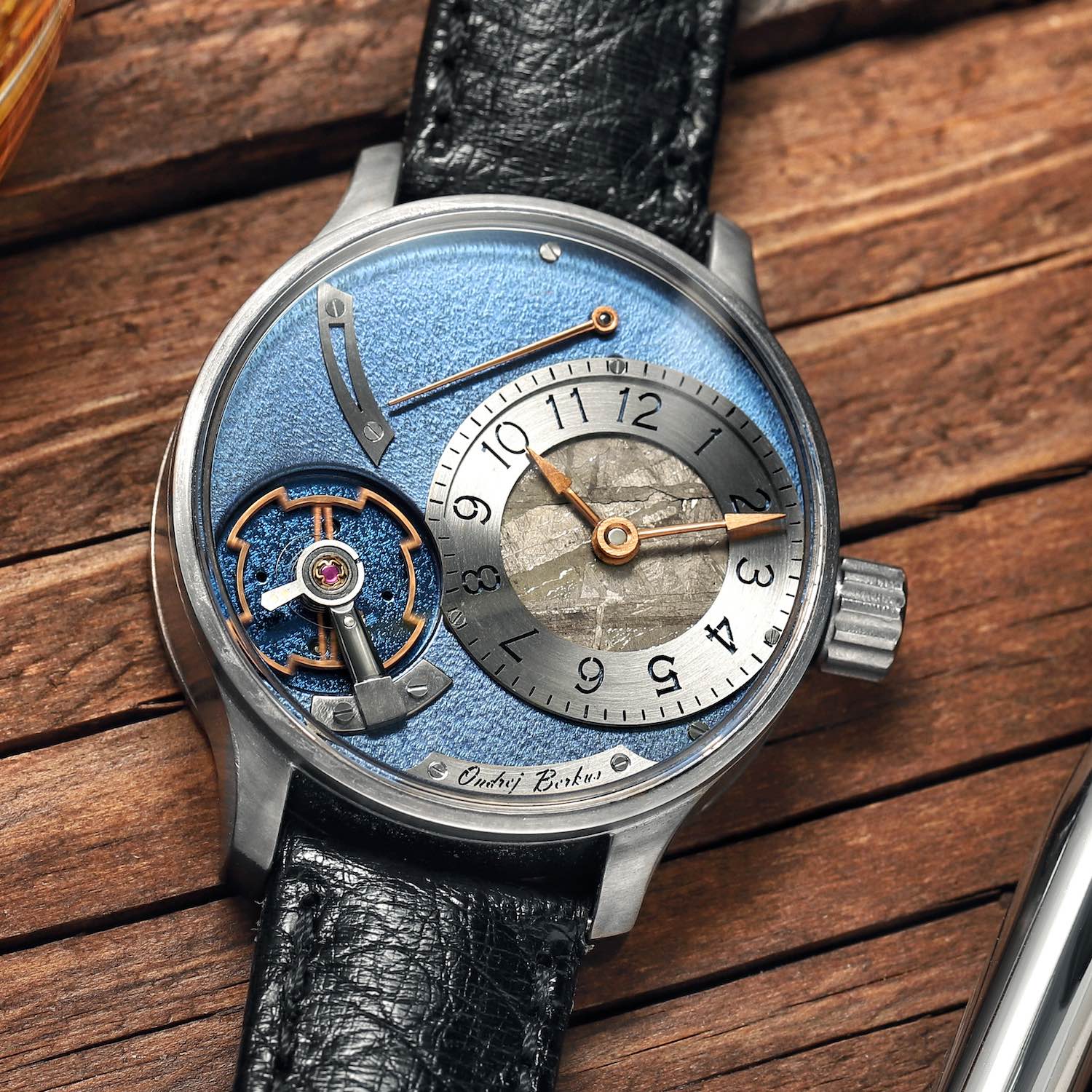 And there we have them, six Ondřej Berkus creations (@aguy2watch's own one-second remontoir, the first completed by Ondřej, among them), lined up on the table [note: these are the finished watches that Ondřej took with him in the beginning of October on a jet-setting trip across the US to hand-deliver to some very, very lucky clients]. 
The complications are innovative: remontoir, sonnerie au passage, chronograph, retrograding date, power reserve, but then I spot it: the newly-completed central tourbillon. 
Inspired by the idea of what a watch would be like if it had been made by some ancient but technically advanced civilization, but was then lost and only recently unearthed, the tourbillon is an alien thing. Housed in a 38mm case of silver and copper Mokume-game (a Japanese technique in which different coloured metals are heated at a specific temperature to bond them together, after which the billet of metal is twisted and turned to create a wood grain pattern), the result is something that looks positively otherworldly. The dial is crafted out of a piece of blued and curved meteorite, which forms a large toroidal ring around the central tourbillon. This is the hours track, and the individual dart-shaped hours represent light getting sucked into the depths of the black hole – nothing can escape once it has crossed the event horizon. There is a single hand, made of hardened steel, hand-bent to match the curvature of the hours track, that has a clearance of 0.15mm above the meteorite. This hand makes a complete rotation once every 12 hours – the minutes are inferred from the shorter hashes (one for every quarter).
I turn the watch over and see one of the most intricate caseback engravings I have ever witnessed. The caseback depicts an Aztec in some kind of spaceship, looking at a stepped pyramid on a screen. Behind him, on another screen, a space traveller is being attacked by a Godzilla-esque monster. Irreverence at its best.
@aguy2watch pipes up: "you need to engrave the crown – some kind of relief engraving matching the caseback. Then it will be complete." Ondřej becomes thoughtful and thinks about it for a minute. "You might be right."
Ondřej picks up the watch and puts it under a UV light. After a few seconds, he picks it up and beckons me over to a darker corner of the workshop. He's grinning, and I see why. The rim of the balance wheel is lumed, as is the hours hand. If this isn't cool, I don't know what is.  
Digging deeper into the workshop, part 1
Holding a billet of Mokume-game, I ask him whether there are any parts he sources because he cannot make them himself, and he happily obliges. Transparency really is the name of the game here!
Sapphire crystals, Incabloc shock absorbers (Ondřej tells me that he would like to make his own springs eventually, something like the Breguet pare-chute system), jewel bearings, gaskets, rough-machined cases are all the parts he orders, either from existing inventory or, in the case of the cases (gosh, even I feel sorry for that pun!) made to his specifications. He emphasizes that the rough cases still need to undergo considerable work on the lathe to achieve the desired facets and cuts. Apart from that, everything is made in his workshop.
Ondřej reaches over to an assuming diary he calls his "dream diary" and starts flipping through it, showing me sketches of projects he wants to make – these are his dreams, not the dreams of his prospective clients – but he needs someone to share the dreams with. I'm amused at the irreverent titles (a blank page titled "Monstrosity" catches my eye) – Ondřej seems to detest the dignified, somewhat self-important attitude the mainstream watch industry has toward naming conventions. His irreverence also extends to the way he names his various tourbillon escapements, and very soon, I'm looking at a huge tourbillon he has affectionately and aptly named the BFT (any guesses?). I flip back to the first page, one of the concepts that seem to be fully realized. A chronograph with two escapements (think Zenith Defy El Primero 21): the first, a tourbillon of course, for timekeeping. The second, beating at 5Hz, for the chronograph. I'm in love. Looking over my shoulder to a picture of a rectangular Ondřej Berkus watch with a spherical moonphase, I cheekily ask him: "Can you fit the double escapement chronograph in there?" 
We talk about various dial materials, and Ondřej hands @aguy2watch a piece of mammoth tusk as inspiration for a future project. "It feels very unusual," @aguy2watch says, turning the piece over, his brow furrowed. 
Ondřej explains that he can polish mammoth tusk to a mirror shine for an effect similar to grand feu and that's all @aguy2watch needs to hear: "Let's do it. I wanted enamel or porcelain, but it would lack the "Berkus" touch. Mammoth is crazy – this is the "Berkus" touch".  
The "Berkus" touch is something intangible, yet nonetheless undeniable. Looking at the six watches lined neatly up in front of me (there is a seventh tantalum number stored safely in a box with parts – this is for @watchcph). Despite the various case shapes (standard round; something inspired by Daniel Roth's "Ellipsocurvex"; or a cushion case rather like a Doxa Sub or a 1970s Omega Constellation), hand styles, and a dizzying array of complications on display, there is something that connects them all. 
"You're like a mad scientist," I mutter. "No, I consider myself more of an alchemist", Ondřej replies.
I have to agree. Ondřej has a knack for taking metals and materials that we think we know and that we think we understand and transforming them into something remarkable: alchemy indeed. Damascus steel, Mokume-gane, tantalum, blued titanium, all worked in a way that is nothing short of otherworldly. Even something as pedestrian as steel can be transformed through its finishing. For one of the watches on the table, Ondřej applied a frosted finish (the same wire-brush frosting you might see applied to movement bridges or plates) to the case flank. The word "impossible" doesn't seem to exist in his vocabulary.
The thing that ties Ondřej's creations together is not something so mundane as a shared case shape or a dial design. It's the feeling you get when you handle the watches, a feeling unlike that of handling any other watch. The more you talk with him, you realize Ondřej has certain preferences, things that could be considered his house style: sub-40mm watches in the cushion case with a minimalist bezel, laser-etched subdials, some kind of retrograde, and a remontoir, because why not?     
I ask him if, since he has so much experience with metalworking, he has ever considered gem setting.  
Ondřej thinks for a minute before responding. "I know how to do it, but if I ever did gem-setting in my watches, it would have to be something crazy. I'm not putting brilliant-cut diamonds on the dial. It has to be different. Like baguette-cut sapphires or something like that". 
@aguy2watch doesn't like the idea and asks me – "But would it fit? Do you think gem-setting is part of the Berkus DNA?"
"No", I have to concur, "No I don't… but what about a moonphase made of a solid sphere of sapphire?"
Ondřej's eyes light up, and @aguy2watch goes quiet. I know then – they're intrigued.
@aguy2watch has to head off again, and I sit down in front of Ondřej's computer where he has some designs open in his AutoCAD software. I ask Ondřej if he learned the technical side of watchmaking – the theory behind the magic – before he started making watches. 
"I'm definitely someone who wants to learn by doing," he says. "I see the movements in my head. Then comes the fine-tuning of the mechanism on the AutoCAD before I move to the machining phase" – here, Ondřej shows me the interaction of the snail cam, program wheel, and a toothed rack to drive the retrograding date of a perpetual calendar movement.
Ondřej reaches down and pulls up a sheaf of paper with some drawings. He show me a sketch of the "Black Hole Tourbillon", a sketch he made five years ago. Now that his "skills have caught up to [his] imagination," as he puts it, he was able to realize his dream project. His sketch is detailed even down to the use of Mokume-game. Ondřej has a fully realized vision of every project – all he has to figure out is how to get the project to work. 
I point to the jumping hours window on the sketch. "I wanted to make the first one simpler," Ondřej says, nearly apologetically. I have no doubt we will see the jump hour implemented very soon.  
Digging deeper into the workshop, part 2
Looking outside, Ondřej mutters "I fucking hate this weather". I come to appreciate this about him: he is a direct person – he says things as they are and does not care for any "bullshit" [sic]. His candour is refreshing – there is no carefully crafted PR veneer layered over his statements – and his watches are an extension of his personality.
I ask Ondřej how much time it takes him to complete a simple time-only watch. "Well, if I work eight hours a day (which will never happen, because I just get distracted too easily), I could manage in three weeks". 
I glance over at the alien-like central tourbillon. "What about that?"
Ondřej takes his time before answering. "Two months". 
He goes on to explain why that is the case, showing me a balance bridge for a standard escapement. I hold the tiny part in my hands, treating it as if it's the most delicate thing in the world. 
"It's a thick [here, I raise an eyebrow in disbelief] piece of metal – it's been hardened. I can screw it in like this [he makes a few deft movements in the air, as if quickly screwing the bridge to the movement baseplate] – no problem! With a tourbillon, look at the size of the tourbillon carriage and balance bridge. If you even look at the tourbillon wrong, the pillars of the cage won't line up, or something else goes wrong. You just have to take so much more time – steadying yourself, preparing yourself before making these adjustments." 
He has four tourbillon watches, of the total planned production of six watches, ahead of him in 2023. 
"Thanks for that," he says. "I hadn't realized the reasoning behind my answer. Thinking it through, it makes more sense now". 
We make our way to the second room of the workshop – this is where Ondřej operates his lathes and performs machining operations. I ask him about the shavings of brass I see on his workbench, and whether the scrap metal is collected and melted down again to be recast. "Well, I do this for gold – I put down a paper on top of the working space and collect all the gold shavings and put them in a bag. I take this bag to my goldsmith [he gestures over his shoulder] over the hill and he melts it down and subtracts it from my bill. For brass, it simply does not make sense from a material cost point of view". 
Circling back around the lathes, Ondřej's face suddenly lights up. "I don't know what I'm doing that I got to this point that I'm crafting these watches – all of them one of one – and delivering them!" 
I realize that this all must feel surreal to him and that he still hasn't quite wrapped his head around the overwhelming response his work has garnered, with momentum really picking up since late 2021.
I glance down at my watch (not an Ondřej Berkus, unfortunately!) wryly – it's time to head off to the station and make my way back.
Closing thoughts
On the road, we again talk cars, before I ask Ondřej about growing his business and whether he would ever consider expanding his team. 
"The one thing I would love is a finisseur. My true passion lies in machining. Finishing a watch movement – sure it's fun – but you're performing the same motions over and over for several days at a time." 
"You know, I don't know if I could ever deal with the responsibility of having an employee. With horses we say that you can stay hungry, but a horse has to eat. I, as the owner of the company, I rely only on myself. An employee, however, relies on me. And that makes me responsible not just for myself and my family, but also for the employee and his family. I'd only take up employees if I have the financial cushion to do so."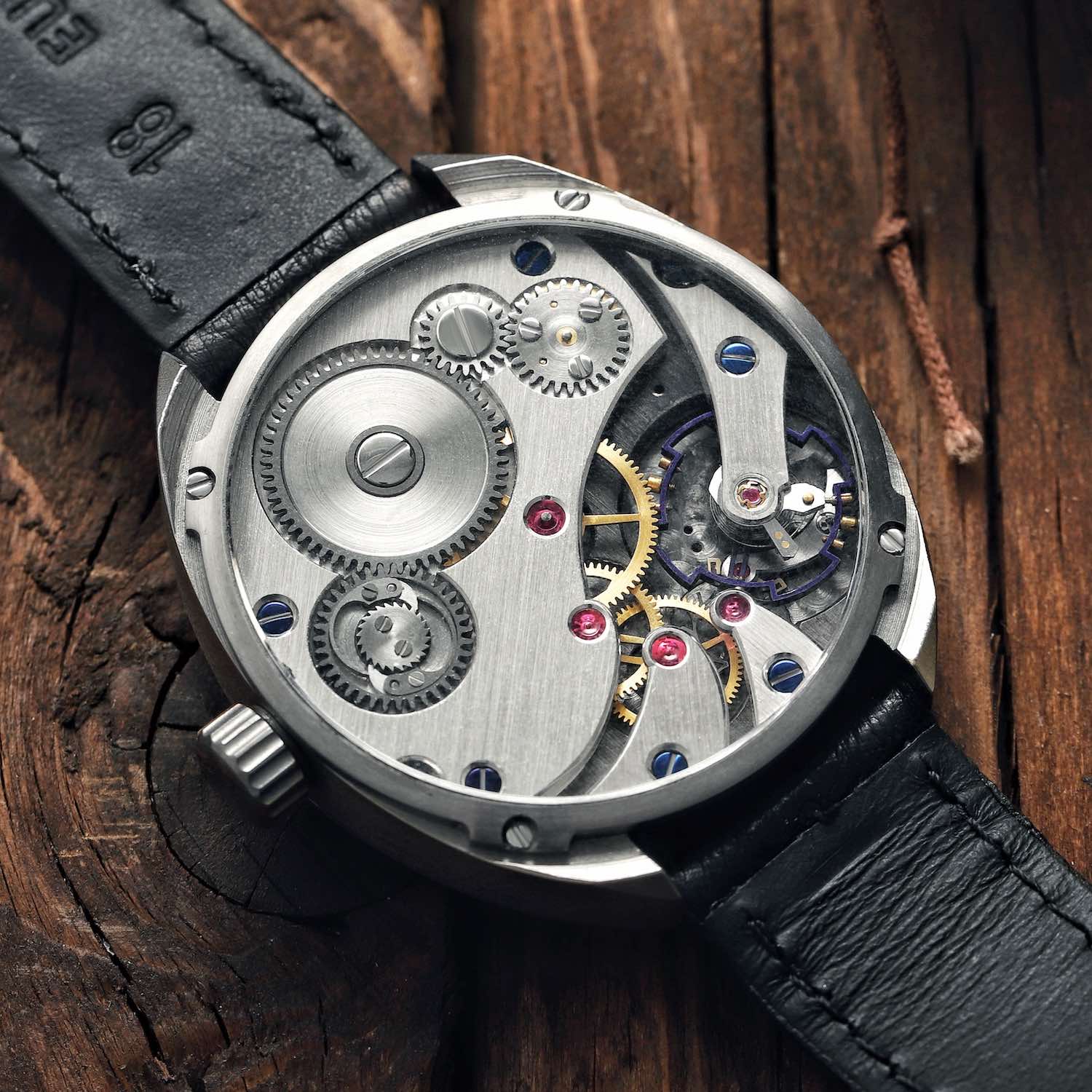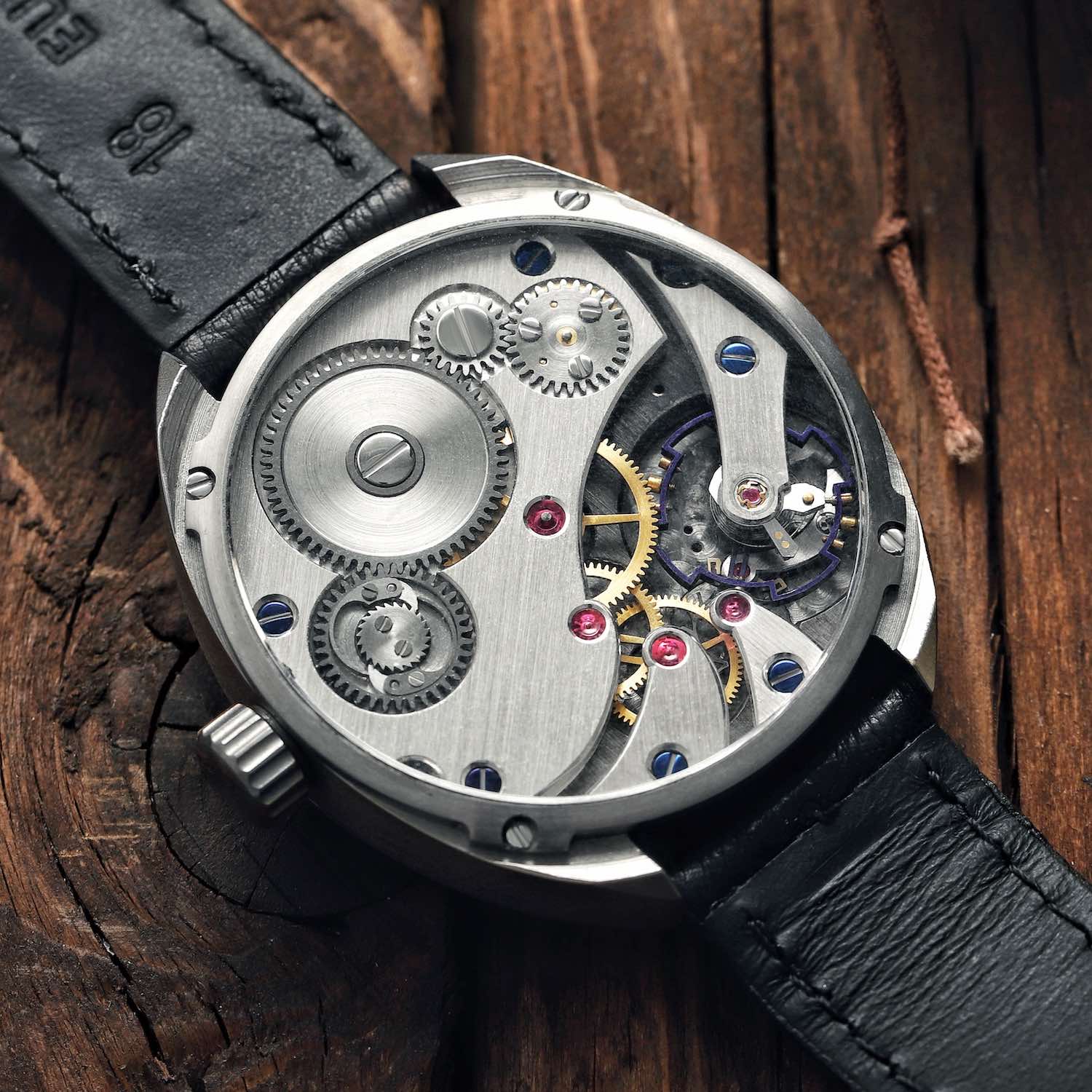 "Circumstances change," I quip, wanting to provoke him. "Life happens. Just as you hire employees, you can also let them go."
He replies: "I believe in karma, in doing good. I believe someone is looking out for me, and everything good I do is paying that forward. I believe in doing good unconditionally – you shouldn't go in expecting some kind of reward."
This is the kind of thing any PR campaign could reproduce… but for once, I believe the words I hear. At this point, I'm smiling because I know that I am already secretly looking forward to coming back here to this magical place!
---
Thank you for your generosity in having me over, Ondřej, and for your time! Special thanks to your wife for letting me steal her husband for the better part of the day and for the delicious spaghetti carbonara!
https://monochrome-watches.com/independent-watchmaking-a-day-with-czech-watchmaker-ondrej-berkus-and-his-unique-watches/
This post first appeared on Monochrome Watches - An online magazine dedicated to fine watches.