Turtle, Willard, Tuna, Monster, Shogun… And of course, Samurai. This proliferation of nicknames for Seiko's diver's watches shows mostly the affection collectors and enthusiasts have for these rugged, well-built, and accessible sports watches (and also a certain lack of charm in Seiko's nomenclature…) Recently, something new has started to be seen next to these names, the prefix "King" – something we've already seen on the Turtle watches. What does that mean? Upgrades, enhanced quality, better specifications… And today we take a look at the Seiko Prospex Diver's King Samurai SRPE35K1 & SRPE37K1, the improved version of an iconic model at Seiko.
While the Turtle can be seen as the old-school, slightly vintage-oriented, and rounded vision of the accessible dive watch by Seiko, the Samurai is its opposite. The Seiko Samurai was launched in 2004 and was produced for a few years only, before being removed from the catalogue. Already at that time, it was a rather large, sturdy, 200m water-resistant and modernly-designed watch, with no vintage inspiration. Yet it features some of the unmistakable signs a Seiko should have. This watch existed in multiple editions, including versions with a titanium case (discontinued in 2008, and reserved for the Japanese market) or steel case with "Clou de Paris" textured dial. It took Seiko almost 10 years to revive the Samurai, which made its comeback in 2017. Starting with 4 references (SRPB49K1, SRPB51K1, SRPB53K1 and SRPB55K1), it brought back its sharply-designed case, its textured dial, its imposing dimensions and some updates on the bezel, the fonts, the colours, the indexes/hands and a more modern movement.
We've reviewed the classic Prospex Diver's Samurai on multiple occasions, here at MONOCHROME – for instance here with the inaugural collection, or here with the PADI version. And while the classic Samurai watches are still available in the brand's catalogue, an upgraded "King" version has been launched mid-2020, following the same idea that we've explored with the King Turtle watches. The recipe is well-known yet pretty efficient. Take one of the most acclaimed accessible dive watches of the Seiko Prospex collection, keep what's loved – meaning the design, the overall performance and the reasonable price – and upgrade some of the parts with high-grade and wear-free materials to bring better-perceived quality and more resistance to external aggressions. And here you have the King Samurai watches.
As such, the centre case of the King Samurai SRPE35K1 & SRPE37K1 is identical to the classic SRPBxx Samurai watches. It thus measures 43.8mm in diameter for a height of 12.8mm. Not small watches per se, and expect quite some wrist presence. The case is, however, pretty well designed, with relatively compact lug-to-lug measurement, at 48.7mm. It wears slightly smaller than the diameter would let you imagine. The shape is also identical, with sharp angles all around, sloping lugs and a pointy crown guard, with a crown classically positioned at 3 o'clock – and not at 4 o'clock, like many Seiko dive watches. The case is mostly executed with satin-finished surfaces, highlighted by some polished accents.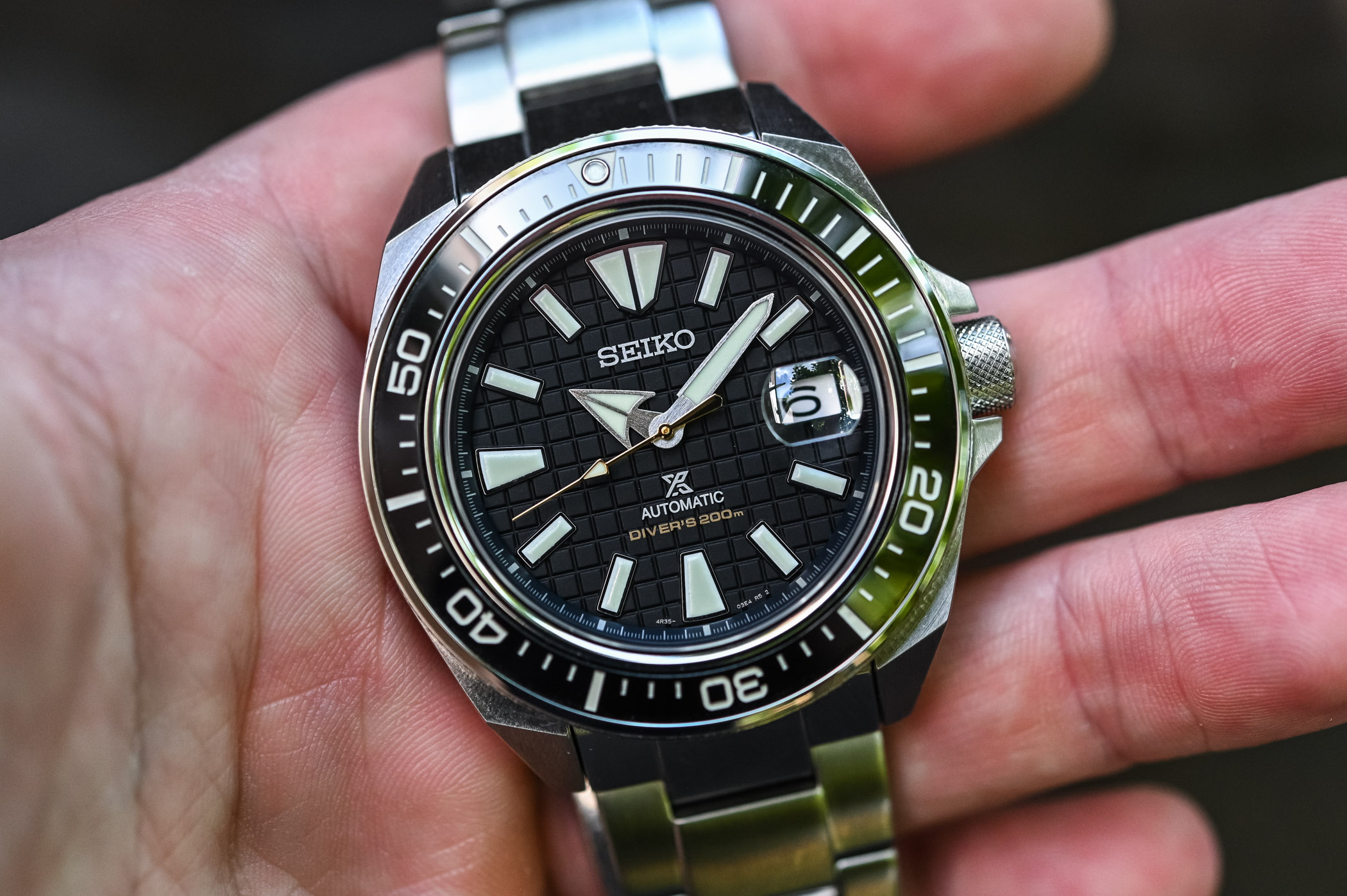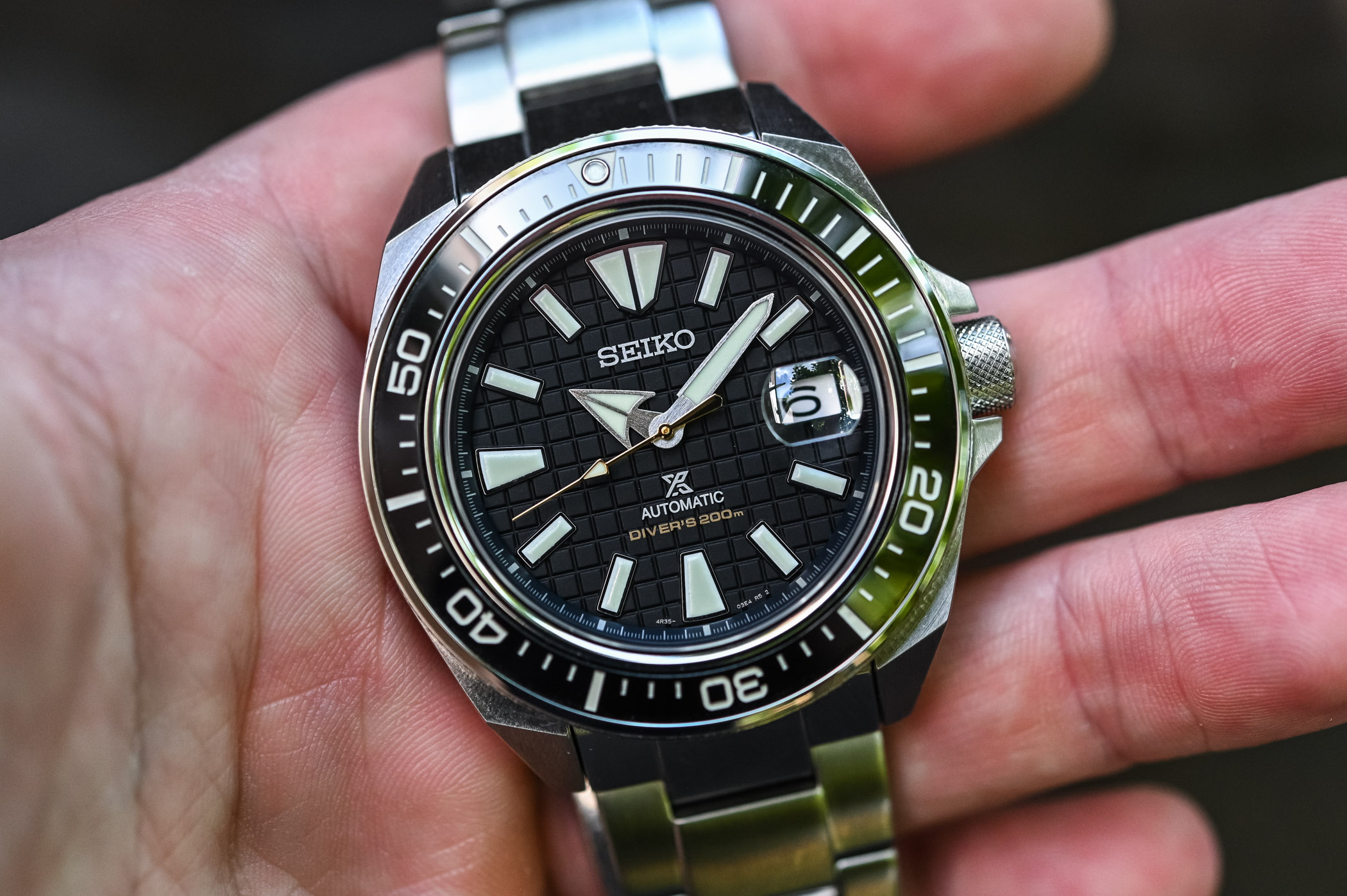 While it retains a non-marked screw-down crown, a screwed caseback and a 200m water-resistance, some noticeable evolutions are to be seen for the habillage. First, if the steel bezel still has its finely knurled texture, and still rotates unidirectionally with 120 (firm) clicks, the insert has been updated. Executed in anodized aluminium on the classic Samurai watches, the King version inaugurates a black polished ceramic insert with engraved 60-minute diving scale. This means that the bezel will be protected against scratches and external aggressions. In the same vein, the King Samurai SRPE35K1 & SRPE37K1 are equipped with a sapphire crystal with anti-reflective coating and a magnifier over the date window, replacing the relatively low-end mineral Hardlex crystal. But for the rest, no doubt, these are true Samurai watches. The overall quality is typical Seiko, no-nonsense, robust yet not fancy.
When re-introduced in 2017, the SRPBxx Samurai watches all came with a textured dial, with a fine "clou de Paris" pattern embossed. An easy way to differentiate classic models from these new "King" watches – something that is also true for the Turtle watches – is to have a look at the dial. Indeed, they all have now an embossed grid pattern, which adds a cool sense of depth and complexity to the design, without disturbing the readability. Yet, no evolution is to be noted for the hands and indexes, which retain the same shapes as before, as well as their efficient Lumibrite material – and there's a serious amount of lume on these watches…
The King Samurai is available in two tastes. First, the SRPE37K1, which comes with a bright white dial. A good point is that, despite the monochromatic style of the dial, the equally white indexes and hands contrast well over the background and legibility is above average, if not almost perfect. All the elements are indeed black-coated metal, to the exception of the seconds hand, with a golden colour. This version is worn on a black silicone strap with steel pin buckle. A fresher option that looks less of an instrument.
Additionally, Seiko offers the King Samurai in a classic black version – reference SRPE35K1. Here, the hands and indexes are framed in silver metal and thus greatly separate from the dark background. The dial is dynamized by a touch of golden colour on the seconds hand and depth rate too. This edition is only available on a 3-link stainless steel bracelet with folding clasp and diver's extension – reinforcing its tool-ish style.
Under the screwed caseback is a well-known movement, the Calibre 4R35 that also equips the classic Samurai models and offering the same 40h power reserve, a 3Hz frequency, a hand-wound capacity and stop-seconds function. The more modern 6R35 is reserved for watches in a higher price range.
Availability & Price
The Seiko Prospex Diver's King Samurai SRPE35K1 & SRPE37K1 are both available as part of the permanent collection, so you'll find them at most retailers. Price is set at EUR 650 or USD 625 for the black version, and EUR 620 or USD 595 for the white version – which is approximately EUR 170 more than a classic Samurai (without ceramic bezel and sapphire crystal).
More details at www.seikowatches.com.
https://monochrome-watches.com/seiko-prospex-divers-king-samurai-srpe37k1-srpe35k1-hands-on-price/
This post first appeared on Monochrome Watches - An online magazine dedicated to fine watches.