Since the release of its first collection in 1992, Nomos has never ceased to please with its minimalistic designs, its nice movements (specifically since it moved to in-house in 2005) and a certain flair for fun and lightness. Fresh, young, very German and at the same time thinking out of the box, the brand has recently made a move towards sportier, bolder designs, going away from its traditional Bauhaus codes. We've seen this with the Club or Ahoi collections, and in particular, the 42mm Club Sport neomatik date, standing out with its 300m water-resistance, striking dial and steel bracelet. But, in my books, it was (way) too large. Problem solved with the new Nomos Club Sport neomatik 37. And now that it has made it to my wrist, I'm wondering something… Could this be a perfect Explorer alternative?
Looking at this new Club Sport 37mm, I immediately had another watch in mind; the classic Rolex Explorer 36mm – one of my all-time favourite watches. Putting the vintage models aside (mostly the reference 1016), it can be defined as this; a compact, robust, good-at-everything watch with enough resistance for a trip underground or an expedition to our planet's summits, a solid water-resistance, an ultra-focussed, ultra-legible dial and a reliable automatic movement to indicate the time, and the time only. The best representation of this concept materializes to me with the reference 14270. And the best is that it's also a surprisingly elegant watch. It's actually that good that the Crown brought the idea back to the market in 2021, with the downsized Explorer reference 124270.
There are a few issues, however. First, the price. A new model costs almost 7k euros and a decent youngtimer about the same amount. Second, the availability. No need to bring the debate again to the table, you won't be able to find a new one at your local retailer. So it means you'll need to add a bit more to the table to feed the greedy grey market (which we don't encourage you to do…) Thankfully, alternatives exist. The first to come to mind is the new Tudor Ranger. Good quality, good price, good movement, but a bit dull and a bit too large if you ask me. And there are many more to list from brands like Nivada, Seiko or Longines (to name a few).
The most recent to date comes from Nomos… And it was clearly not the first brand I would have listed in a guide to the existing alternatives. But becoming a close relative to this new Club Sport neomatik 37 for a few days changed my perception quite drastically. But first, let's break down the specs and facts.
The new Club Sport neomatik 37 is the smaller brother to the Club Sport neomatik date 42. This watch can be seen as the brand's sportiest model to date, with its large case, its overall robustness and almost dive watch capacities. Except that it isn't strictly speaking a watch for diving, since there is no rotating bezel. But with 300m of water-resistance, it surely can handle some underwater pressure. Or be worn during weekends, at the sea or at the mountain… and at the office too, as long as you can live with its large case (42mm) and even larger lug-to-lug measurement (52.3mm). Hence why it has never been a watch for me and my tiny 16.5cm wrist.
A couple of weeks ago, Nomos came back to its usual specifications, with a smaller edition of this model, with only minimal adjustments to the overall sportiness. First and foremost, the case of this new no-date Club Sport neomatik is much more compact, at 37mm in diameter, and a height of only 8.4mm. And when you consider the 200m water-resistance, this should become an example for brands and their 14mm thick dive watches… The other important evolution concerns the lug-to-lug dimension, which is now 47.5mm. Right, it's still quite long considering the diameter, but at least it's now perfectly wearable for most men and women too – and it also means that those scared by a small watch shouldn't be. It's compact, but not small.
The whole watch is very much in line with what you expect from an Explorer-like model. Sleek case, screw-down crown with a red-coloured tube that's only visible when the crown is unscrewed (a reminder that you have to screw it), sapphire crystal on the front with an efficient anti-reflective coating and two options for the caseback; a screwed sapphire option or a screwed solid steel option – the latter saving you 300 euros, but personally I would choose the view on the nice neomatik movement. Polished surfaces are found all around and the whole watch feels classic, nicely proportioned, comfortable and ready for approximately any possible environment you can imagine, except the most demanding ones (but for that, you'll a specialized watch anyway).
Complementing the case is a 3-link steel 18mm bracelet, closed by a folding clasp and fitted with quick-release spring bars for an easy swap. While the overall quality of the bracelet is very good (maybe not Rolex level, but still rather appreciable), some choices are more questionable… Why, really, why having a polished clasp? Scratch-magnet alert… The same goes for the polished mid-links, but that's less of an issue. As an alternative, you'll be able to choose the watch with a textile strap closed by a pin buckle, which will again save you another 180 euros. But my advice would be to go for the steel bracelet and add a couple of NATO or Perlon straps next to it.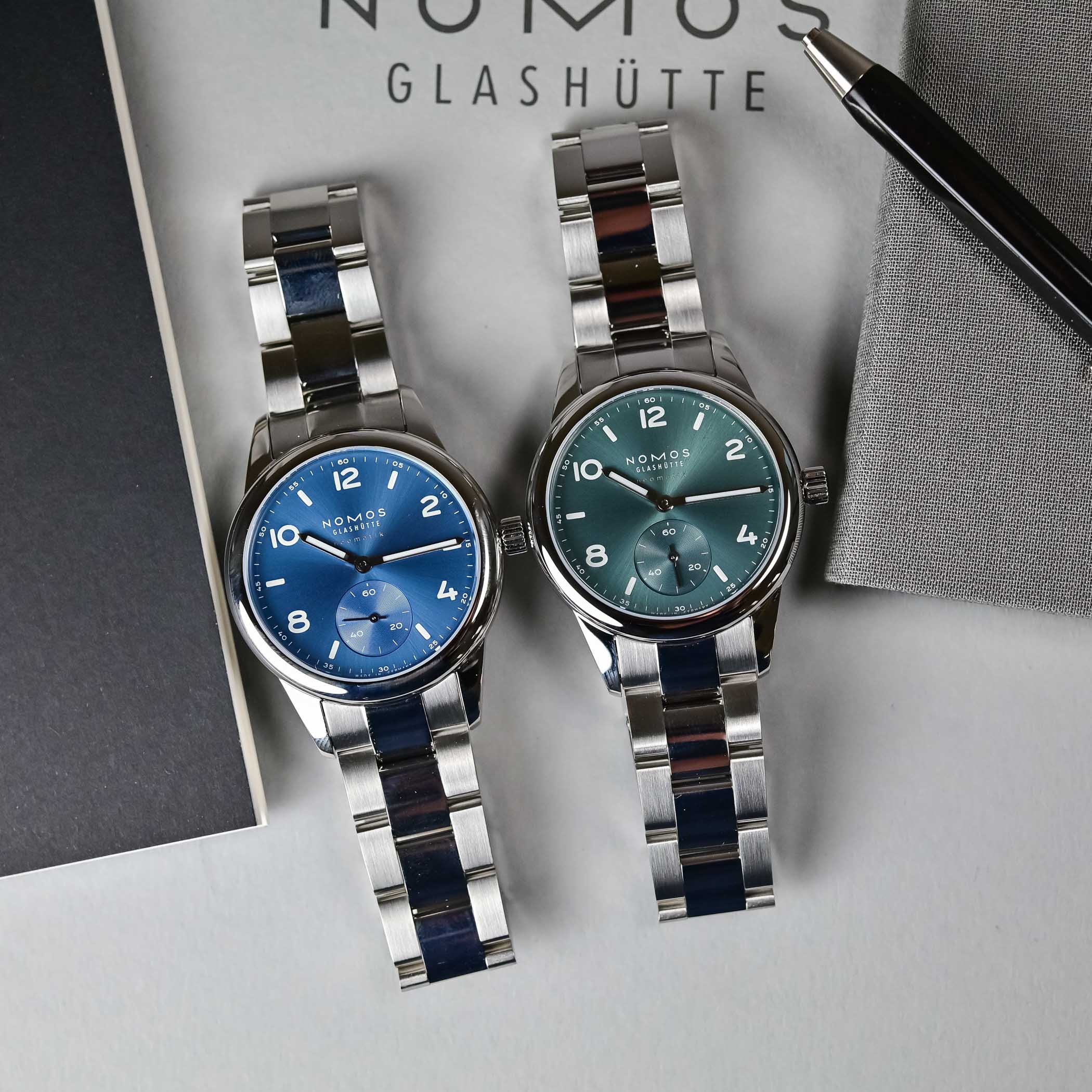 The dial of this new Nomos Club Sport neomatik 37 is available in two tastes; Polar Blue and Petrol Green. No mistake with the blue, but the green is, without a doubt, the most attractive of the duo. It's a nice, cold green colour that feels different from the dozens of other green watches currently on the market. It is discreet enough, with just the right dosage of originality. The rest of the dial is all about simplicity and legibility. A no-date model (contrary to the 42mm version), it features large hour markers and bold hands to make it contrasted night and day.
The succession of batons and numerals for the hours is interesting and same goes for the position of the numerals, which are basically the opposite of most watches. The brands said to us that the markers are slightly recessed into the dial so they can hold even more luminous material… Now, one could always question the presence of a small seconds on such a watch, but then again, it participates to the overall originality.
Under the hood of the 37mm Nomos Club Sport is the now well-established neomatik movement or calibre DUW 3001, a thin and elegant engine that has proven its capacities. Produced in-house, it features the brand's Swing system (proprietary escapement), runs at a 3Hz frequency and stores up to 42h of energy when fully wound. The decoration, typical of the Saxon region, features thin ribbings, a ¾ plate, blued screws and golden accents.
Price-wise, the Nomos Club Sport neomatik 37 as you see in this article (green dial, sapphire back, steel bracelet) comes at EUR 2,780. But you can get one for EUR 2,300 if you skip the sapphire caseback and the steel bracelet. In any case, it's typical Nomos price level, fair and accessible considering the content you'll receive. The watches are now available from the brand's website and from retailers, as part of the permanent collection.
But most importantly, except for a few griefs (the polished clasp mostly), this new Club Sport neomatik 37 is packed with arguments and can play in the competitive field of Explorer alternatives. What it brings to the table, in addition to its great price/content ratio and overall quality, is a nice dosage of cool and fun, and a thinness that makes it a joy to wear, week and weekend alike. Take note watch brands, it is possible to make a solid sports watch with 200m water-resistance and a below-9mm height…
For more details, please visit nomos-glashuette.com.
https://monochrome-watches.com/nomos-club-sport-neomatik-37-petrol-green-explorer-like-all-rounder-hands-on-review-price/
This post first appeared on Monochrome Watches - An online magazine dedicated to fine watches.