The concept of customized watches is far from new and has been around for years – remember Karl Lagerfeld and his blackened RO in the 1970s… But beyond the easy task of applying a PVD coating on a case or adding diamonds on a bezel, some workshops have created more advanced programs to offer an exclusive service of watch modification for private customers. And among them is Artisans de Genève. Known for pushing the concept as far as modifying the movement and decorating it in traditional haute horlogerie-style, it works only upon request of its customers – some with famous names. And the latest watch to see the light, a joint creation with screenwriter, director and Oscar winner Spike Lee is something that can't remain unseen. Here's the Artisans de Genève "The Cool Hand Brooklyn Skeleton" Daytona for Spike Lee.
Disclaimer: Artisans de Genève is an independent company specialized in the personalization of timepieces. Artisans de Genève is not affiliated with Rolex SA nor authorized by them to intervene on their products for any reason whatsoever. This personalization was ordered for his private use by a customer who owns a Rolex timepiece.
Artisans de Genève is, without a doubt, among the best workshops when it comes to the personalization of watches. It's not just about changing a dial or adding a coating, the work done here goes far more in-depth and includes the modification of the case, the addition of new material, and one of their specialities, the modification and skeletonisation of movements, re-decorated by hand in a traditional way. While the style of these creations can be debatable sometimes – it actually reflects the choice of the future owner – one has to recognize the impressive quality of the work done.
The latest creation to come out of Les Artisans de Genève's workshop is once again a highly personal creation, a watch that has been designed according to the desires of a recurring client of the brand, and a famous one; Spike Lee. Following his first personalisation back in 2017, the awarded screenwriter and director is coming back this year with a watch to commemorate his nomination as Jury President for the 74th Cannes Film Festival.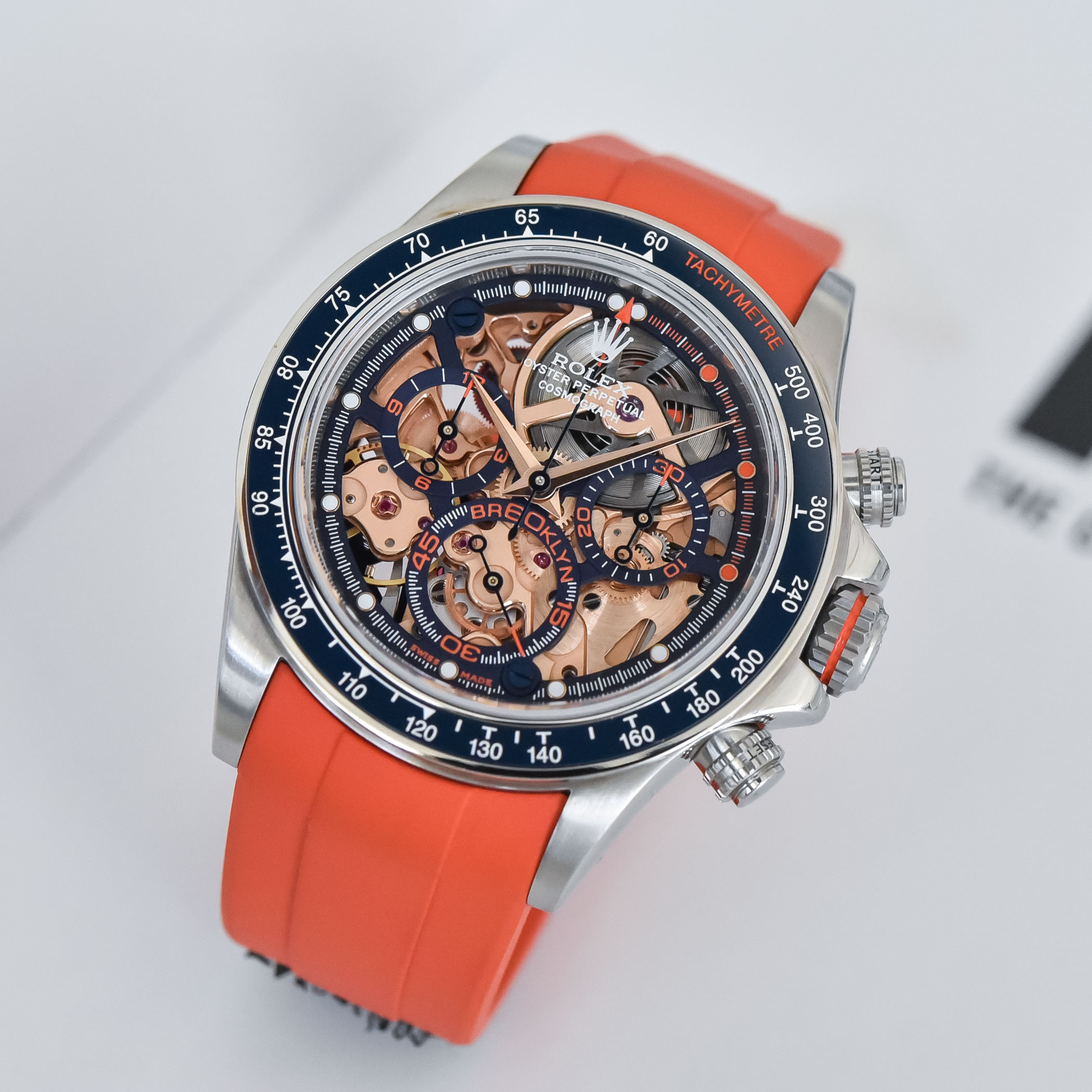 The whole idea behind what's named "The Cool Hand Brooklyn Skeleton" was to reflect Lee's love for the place where he grew up and the town that made him, Brooklyn, New York City. The design is influence by Lee's favourite colours – orange and blue – and a distinctly urban look the director is known for. And, in classic Artisans de Genève style, the base used for this creation is a Rolex Daytona 116520 – even though there's not much left of the original watch anymore after the workshop took care of it.
The work done by Artisans de Genève together with Spike Lee concerns both the habillage (case, strap and dial) and the mechanics. First, while the base of the case is identical, this Artisans de Genève "The Cool Hand Brooklyn Skeleton" comes with a new bezel with blue ceramic insert and a reworked sapphire crystal with logos transferred on the inner side. The crown and pushers are also new, and while still screwed, their design has been reworked. The crown features a recessed orange line and the pushers have "Start-Stop" and "Reset" inscriptions. Still made of stainless steel and measuring 40mm, the case has new finishings all around (brushed and polished by hand), including a sandblasted back and a new screwed caseback with engravings and a sapphire crystal.
The dial, or what's left of it, is entirely openworked with a blue piece with peripheral track and sub-counter rings. It is executed in blue with rose gold applied markers, filled in white or orange, and there's a "BR60KLYN" marking in the small seconds – which has been enlarged. The hands are also new, with a dauphine shape and a rose gold colour. And of course, it reveals the reworked movement underneath.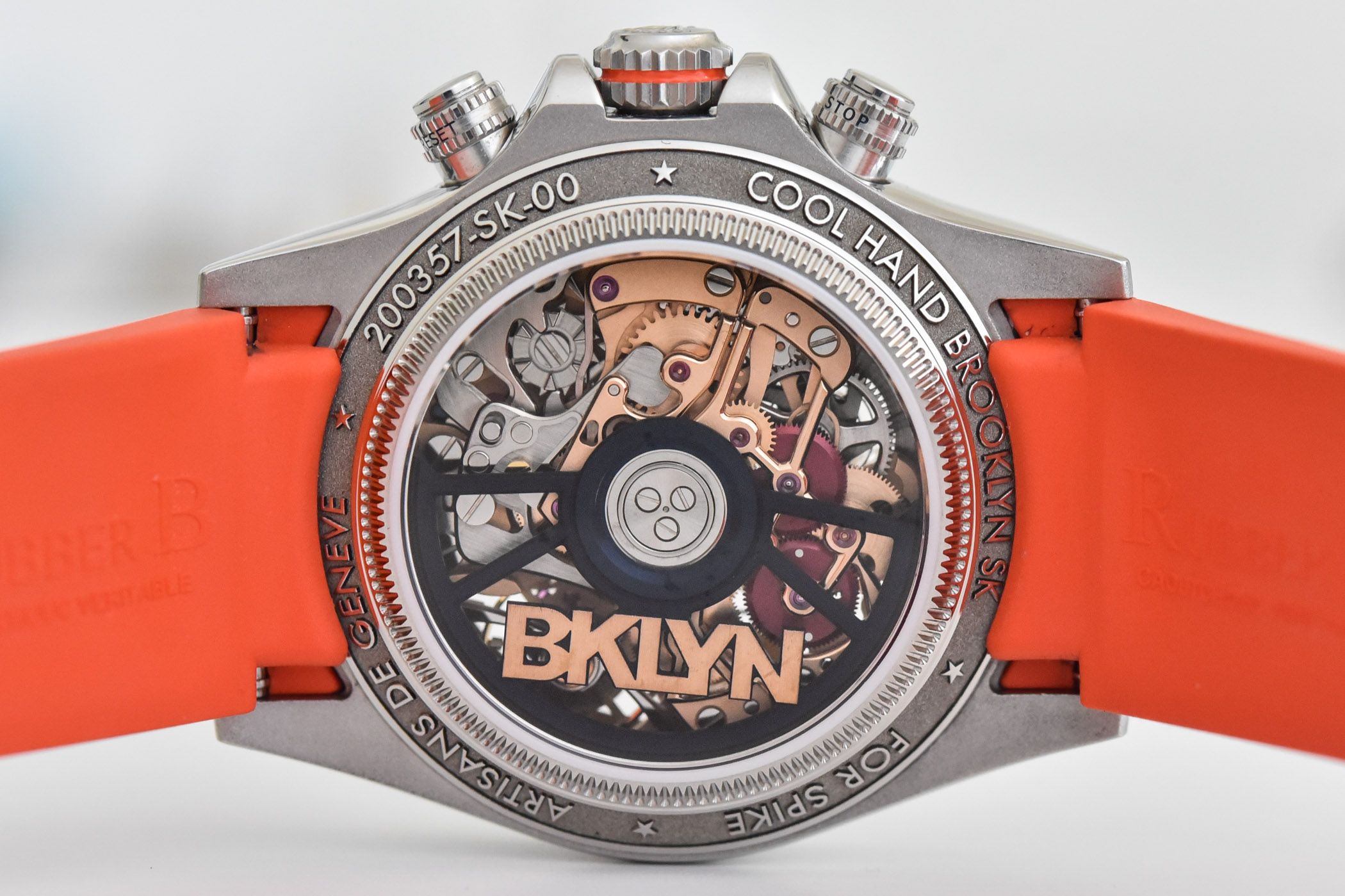 If the technical base remains the 4130, it has been entirely reworked and skeletonized to reveal parts of the movement. The plates and bridges have been deeply opened and decorated by hand with sandblasted surfaces and anglages. The bridge on top of the mainspring, for instance, is quite spectacular. The movement has been coated in a striking rose gold colour. The back reveals the same skeletonization work, with the entire chronograph mechanism clearly displayed. The same level of decoration is found and there's also a new, personalized rotor in tungsten, coated in blue PVD and featuring a rose gold inscriptions "BKLYN."
The final touch decided by Spike Lee for this Artisans de Genève "The Cool Hand Brooklyn Skeleton" Daytona is an orange vulcanized rubber strap with Velcro fastener.
Keep in mind that this personalization has been requested by a private customer. It is a sample of know-how and of the personalization services made upon request. For this reason, the price will remain undisclosed but you can, of course, contact Artisans de Genève in order to work on a creation, based on your own watch, that will reflect your personality. And if you are not entirely convinced by the look of this Spike Lee "The Cool Hand Brooklyn Skeleton", we on our sides, can surely recognize the work done by Artisans de Genève.
More details at www.artisansdegeneve.com.
---
Sponsored Post: This article is sponsored by Artisans de Genève. However, it reflects the writer's opinion and has been written according to MONOCHROME's editorial policy.
https://monochrome-watches.com/the-brooklyn-skeleton-daytona-that-artisans-de-geneve-created-with-spike-lee/
This post first appeared on Monochrome Watches - An online magazine dedicated to fine watches.